Matsue [Shimane Prefecture]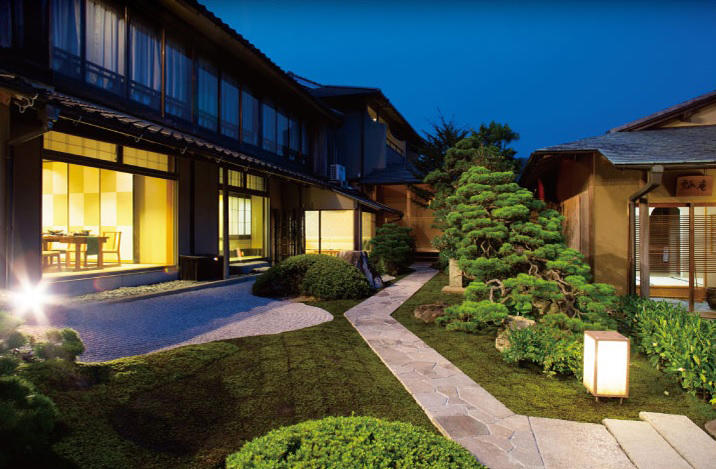 In the center of a castle town Matsue, Minamikan is located on the waterfront of Shinjiko Lake. Since 1888, Minamikan has been loved by famous authors such as Yakumo Koizumi (Lafcadio Hearn), Yasunari Kawabata, Ryunosuke Akutagawa. You will see their autographed poems in the lounge.
The Karesansui style garden, with white sand and pine trees over 200 years old, has been ranked highly for the past few years by "Journal of Japanese Gardening" magazine.
The interior inside each room has a traditional and modern elegance. The rooms are spacious and comfortable, overlooking the lake and the beautiful Japanese garden. In the evening, you can enjoy the sunset (the best season is winter). In the morning, you will hear the gentle sound of fishermen digging clams at the lake.
The garden, the food, and mostly the hospitality are all derived from the Chanyu spirit, which is based on Zen. At Minamikan, a soothing and healing moment awaits your arrival.
Accommodation Type
Luxury Ryokan
Access
30 min. from Izumo Airport by taxi 40 min. from Yonago Airport by taxi
5 min. from Matsue Station by taxi
Price Range *

20,000 yen or below
20,001 - 30,000 yen
30,001 - 40,000 yen
40,001 - 50,000 yen
50,001 yen or above

Environment
Serene environment in front of the lake, despite in the city
Room
12
Private Bath
All rooms are equipped with bath (some with lake view)
*Per person per night, for double occupancy on regular seasons for standard plan. Please check when booking.
Basic Information
Facilities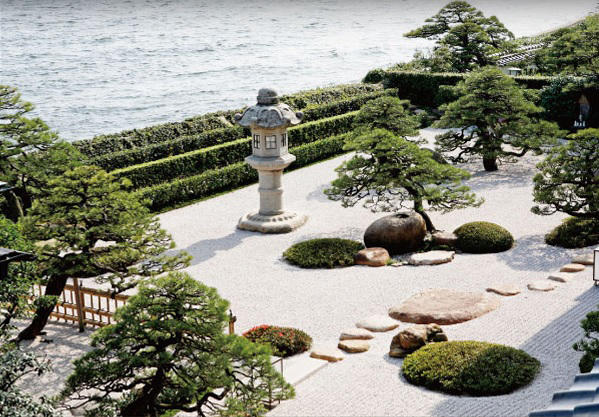 Japanese traditional style or modern style available.
12 rooms equipped with baths and western style toilets
Dining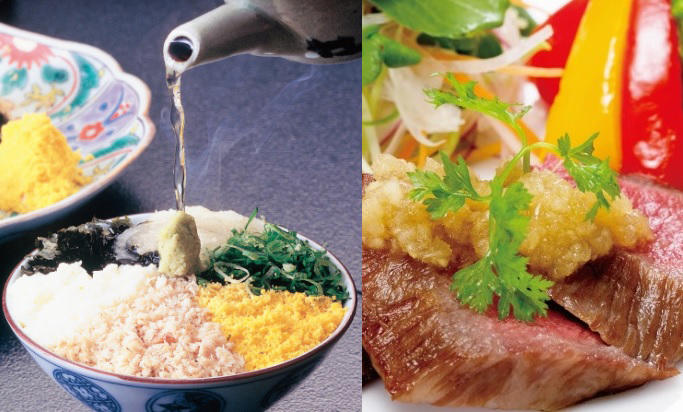 Dinner and breakfast are served in the restaurant.
Dinner is an exquisite Matsue-style Kaiseki cuisine.
Bath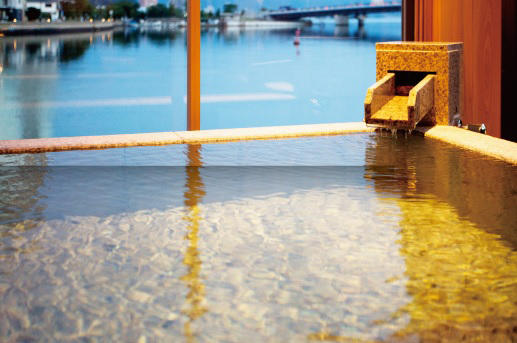 All rooms have baths. Some with the view of Shinjiko Lake (hotspring).
Shared bath is a hotspring.
Others
Check in from 14:00 or 15:00 (depends on room type)
Check out 10:00 or 11:00 (depends on room type)
Intenet connection: Yes (room)
English: Yes
Room type and prices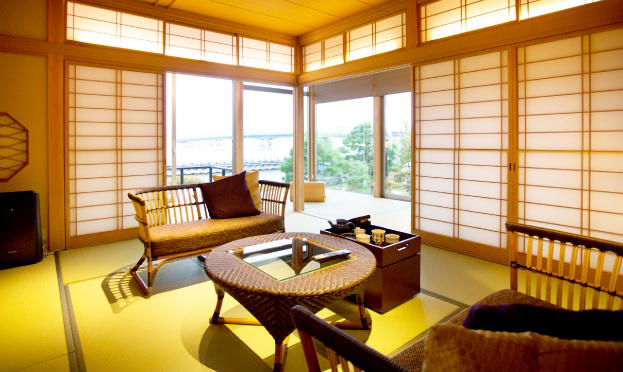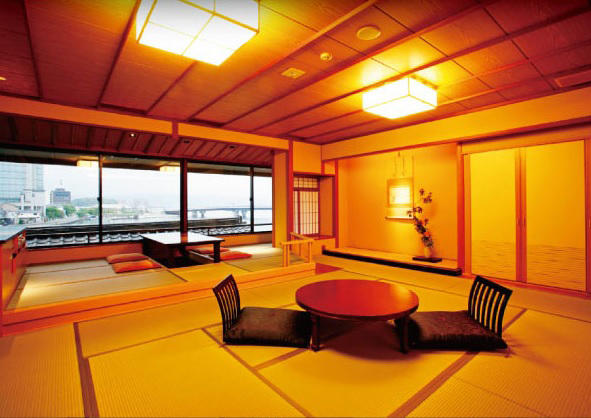 Shared by 2 persons
Modern type
(bed, tatami room with lake view bath)
29,600
Retro type
(bed & tatami room )
25,300
Classic type (futon & tatami room)
27,500
Hanare Cottage type (futon& tatami room with garden view)
38,500
Prices differ depending on the dinner course. Please ask us for details when you book. Prices are based on standard plan with bath and toilet on weekdays (Sunday to Thursday).
The rates are for per person, per night including dinner and breakfast. Please ask us for prices when shared by 3 guests or more.
Service charge is included. Taxes are exclusive.
On weekends and in peak seasons, prices are different. Please check with us when you book.
Extra charges for children vary across ages and services.
Access
Transportation
By Air (from Tokyo)
Tokyo - Yonago or Izumo : 1 hr. 20 min. Taxi : 30 min.
From Osaka
About 3 hrs. 40 min. by bullet train and limited express train
Recommended activities
Matsue Sightseeing (Matsue Castle, Samurai residences, Japanese gardens, tea culture,
Sake breweries, galleries, etc.)
Reservation Request