At a glance
Okinawa, the southern island surrounded by Pacific Ocean and East China Sea, is the most popular destination in Japan for beach vacation. Stay at a world-class resorts in front of the beach or pristine woods in the subtropical climate, Okinawa will be perfect destination for families with small children to honeymooners. Okinawa, located about 1300 to 1900 kilometres from Tokyo, was originally called Ryukyu. The independent kingdom had active trade with China from 14 to 16th centuries. The legacy of Ryukyu Dynasty can be seen at the remains of castles, registered as UNESCO World Heritage. With its rich heritage and culture, visitors will be able to experience their unique gastronomy, art and crafts.
Naha City & Surrounding area

Naha is the largest city on Okinawa Main Island. Visit local market with fish, seafood, fruits, vegetables, etc. which you can find only in Okinawa. In the market, it is fun to choose your seafood and ask for cooking. Then, visit a small street lined with kilns of Okinawan pottery. In the era of Ryukyu Dynasty, the government brought ceramic artists in this area from various parts of Okinawa, and established Tsuboya pottery here. Shuri Castle is probably one of the most popular historical spots in Okinawa, which is believed that the castle existed in 1429. The castle was the center of active trade with China and Japan for 450 years. Though the original building was burned down during the Battle of Okinawa, the remains of castle are registered as the UNESCO World Heritage Site. There are picturesque stone-paved street and Awamori (local Okinawan sake) brewery nearby.
Central & Southern area of Okinawa Main Island

Enjoy a drive through a scenic coast line from Naha City to the central area. There are majestic beaches, capes, peninsulas overlooking East China Sea. In this area, there are world-class beach resorts where you can experience water activities such as kayaking, jet skiing, glass-bottom boat, snorkeling, scuba diving, etc. Enjoy sunbathing on the powdered beach, or relax at spa. For those looking for privacy, luxury villas can be recommended. Also, it is nice to visit local art studios such as Yachimun pottery, woven fabric, Ryukyu glassware, etc.
The battle of Okinawa started late March 1945 for three months, and destroyed much of the cultural legacy and claimed the precious lives of upward of 200,000 people. Southern part of Okinawa was the only ground battle in Japan during World War II. In this area, to pray for eternal peace, there are several memorial museums and monuments established to convey the historical lessons of the battle to the future generations.
Northern area of Okinawa Main Island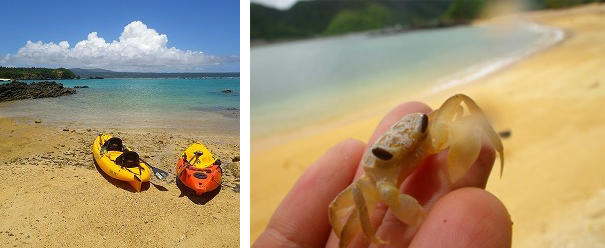 Yanbaru, Northern part of Okinawa Main Island boasts sub tropical forests, located from 300 to 500 metres above sea level. Indigenous species such as Yanbaru Kuina (Okinawan rallus), Noguchigera (Pryer's Woodpecker) can be seen in this pristine woods. Nature lovers can take private eco tours such as trekking in Yanbaru forest, kayaking through mangrove forest to the sea. Also, there are family-oriented theme parks such as Subtropical Garden, Pineapple Park, one of the largest aquariums in the world, etc.
Other Islands of Okinawa (Ishigaki Island, Miyako Island)

If you would like to have more relaxing stay and feel small island ambiance, visiting other small islands can be recommended, such as Ishigaki and Miyako. Ishigaki Island is the center of Yaeyama Archipelago which consists of 31 islands. The culture and lifestyle in the Yaeyama Archipelago is different from Okinawa Main Island which is located approximately 400 to 500 kilometres. Here, visitors can enjoy slow-paced time on the island, by seeing locals chatting under the red brick roof, or cultivating the soil gently by water cow pulling plough. Enjoy marine activities, such as snorkeling or scuba diving in one of the largest blue coral reefs in the world, or taking a glass bottom boat to observe coral reef by glass bottom boat. Also, from Ishigaki Island as a base of Yeyama Archipelago, visitors can make a day trip to other islands nearby, such as Taketomi, Kohama, Iriomote, etc. Miyako Island is known as the most popular diving spots in Okinawa. Especially Yabiji, the coral reef community of 25 kilometres around, and Sekiseishoko which is 20- kilometer length are considered as natural value in the world, for its naturally bountiful sea and scale. There are 360 species of coral reefs here, while there are 330 species in the Great Barrier Reef in Australia. Also, luxury resorts and golf courses are available on both islands.
Access
There is a variety of approaches to this area. Typical routes are as follows:
From Tokyo
Tokyo - [2 hr. 30 min. by flight] - Naha
From Osaka
Osaka - [2 hr. by flight] - Naha
From Naha to other islands
Naha - [50 min. by flight] - Miyako Island
Naha - [55 min. by flight] - Ishigaki Island

*There are direct flights from Tokyo/Osaka to Miyako/Ishigaki Island.
We can book hotels or resorts depending on your travel plan or budget. Please contact us by E-mail (commentsmtj@michitravel.com) or phone (81-3-5213-5040).
Picture on this page:
Beach picture in Other islands of Okinawa, provided by OCVP