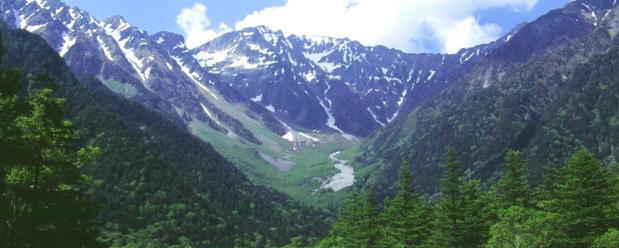 At a glance
Nagano prefecture, surrounded by high mountain peaks of the Japan Alps, offers various activities for all season; visiting historical cities, seeing picturesque landscapes with seasonal flowers, hiking, relaxing in hot spring, skiing, and enjoying local gourmet food.
Highlights
Historical Sights: Matsumoto Castle & Zenkoji Temple

Matsumoto is an old castle town with historical buildings and traditional culture. Matsumoto castle, originally founded in late 16th century, is registered as the national treasure and retains its original form. Magnificent view of northern Japan Alps can be seen from the top floor of the castle. In spring, you will be impressed by beautiful cherry blossom surrounding the castle.
Zenkoji Temple in Nagano city is the largest wooden building in eastern Japan, founded about 1400 years ago. The temple had been conserved by famous samurai lords such as Minamoto Yoritomo, Toyotomi Hideyoshi, and Tokugawa Ieyasu. It was said that people can go to heaven if they visit Zenkoji Temple. Even now, 6 million people visit there in a year.
Hiking & Cycling & Skiing

For those who are keen on hiking and cycling, Nagano must be an amazing paradise. Azumino is famous for clean water derived from Japan Alps. As you hike around the pastoral area, you can see many wasabi farms. Wasabi ice cream will be a unique and pleasant experience. Cycling along rural fields with seasonal vegetables and flowers also refresh you. Kamikochi has been one of the greatest mountain resorts in Japan since introduced to Europe by famous British alpinist in late 19th century. You can enjoy trekking and light hiking along limpid streams. Hakuba is also an attractive town for outdoor activities such as trekking, canoeing, and paraglide. In winter season, the town will be a fine ski resort. In Nagano Olympic Games in 1998, ski jump games took place in Hakuba.
Hot Spring

Nagano has many hot springs with various efficacies. Some unspoiled hot springs are located in secluded area surrounding mountains.
Yudanaka Shibu Onsenkyo is a historical hot spring resort which was established about 1,300 years ago. Nine hot spring resorts at the northeastern Nagano, Jigokudani, Kanbayashi, Shibu, Andai, Yudanaka, Shin Yudanaka, Hoshikawa, Honami, Kakuma, are collectively called Yudanaka Shibu Onsenkyo. Each has a different efficacy. There are also several Sotoyu which are public hot spring baths in the town. You can enjoy strolling around the town wearing Yukata (casual kimono) to try them. At Jigokudani onsen, known as "snow monkey" spot, wild monkeys relaxing in a natural hot spring can be seen. They are soaking still with eyes closed as we do.
Fruits Picking

Fruits picking is an attractive activity for families with small kids. There are plenty of fruits farms in Nagano. They offer various fruits in each season, such as strawberries, blueberries, peaches, pears, grapes, and apples. Enjoy picking and tasting fresh & juicy fruits. Also, there are some wineries in Nagano Prefecture.
Pictures by Nagano Prefectural Tourism Association
Access
There are a variety of approaches to this area. Typical routes are as follows:
From Tokyo
If you visit Nagano, Hakuba or northen part of Nagano...
Tokyo - [2h., Shinkansen] - Nagano
If you visit Matsumoto or southern part of Nagano...
Shinjuku (in Tokyo) - [2h. 30 min., JR Super Azusa] - Matsumoto
Recommended Accommodations
These are a few luxurious ryokans (Japanese style inns) that we recommend. We can book other ryokans or international hotels depending on your travel plan or budget. Please contact us by E-mail (commentsmtj@michitravel.com) or phone (81-3-5213-5040).
Custom travel in Nagano and Nagano Private Tour
If you would like a customized trip in Japan, please contact us by email
(commentsmtj@michitravel.com) or click the button below and fill in the request form.
If you would like to take a 1 day Nagano Private Tour, click Nagano Private Tour.
We will design your own tour of Nagano with an English-speaking licensed tour guide.