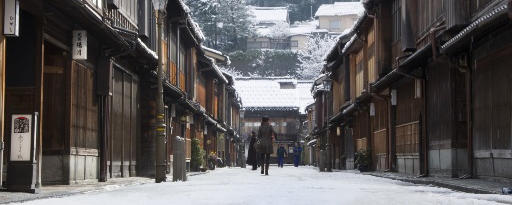 At a glance
Surrounded by Mt. Hakusan and Noto Peninsula, Kanazawa is an old castle town which was ruled by the Maeda family in the 15th century. The development of a large production of rice resluted in the wealth of this region, which left us wtih many valuable cutural assets. Visitors can encounter one of the three most beautiful Japanese gardens in Japan, samurai residences, and geisha district in Kanazawa. If you are interested in seeing the traditional rural life, visit Wajima town in Noto Peninsula with famous Wajima lacquer ware, historical morning market and scenic coastline. There are also many hot spring towns in this area. Kaga Onsenkyo is one of the most historical hot spring towns in Hokuriku area (Ishikawa, Fukui, Toyama), which was loved and continued to be enjoyed by many people.
Highlights
Kanazawa
Kanazawa was considered as one of the most prosperous regions in Japan along with Edo (Tokyo), Osaka and Kyoto during the Edo era (17th-19th century). In this charming castle town, visitors can catch a glimpse the world of gorgeous samurai lifestyle. Visit Kenrokuen, one of the three most beautiful Japanese gardens along with Kairakuen (Mito city) and Korakuen (Okayama city). Walk through Nagamachi district with historical samurai houses. Higashi Geisha District is lined with historical tea houses established in the early 19th century for geisha entertainment. There are many craft museums and shops that carries Kutani pottery, Kaga yuzen kimono, and products using golden leaf (99 % of golden leaf produced in Japan is made in Kanazawa).
Wajima, Noto Peninsula

Noto Peninsula is popular for its coastal beauty, rural lifestyle and gourmet food.
On the way to Wajima, visitors can enjoy a scenic drive along beaches, cliffs, and rice terraces. Wajima is internationally famous for its lacquer ware in glossy black and red. There are many studios and shops in the area. Experience lacquer ware making by "makie" method which is sprinkled with gold powder. In the morning, more than 200 stalls are lined on the streets in the famous Wajima Asaichi morning market which continues from 1,000 years ago. Here, you can see locally grown vegetables, fresh and dried fish, seaweed, and other marine producets sold directly by farmers and fisherman' s wives.
Kaga Onsenkyo

Kaga Onsenkyo (hot spring area) is located within 30 minutes by train from Kanazawa station. Around Kaga Onsen station there are 4 hot spring areas of Yamashiro, Yamanaka, Katayamazu and Awazu. Among those, Yamashiro is considered as the most historical and established hot spring area in Hokuriku (Ishikawa, Fukui and Toyama) area. Relax in the historical hot spring of Yamashiro, and enjoy Kaga style cuisine at an established ryokan. During winter, exclusive crab dishes can be requested in advance.
Also, the area is famous for the production of Kutaniyaki ceramics with multi-colored design, which is believed to have influence on Hungary's Herendo porcelain wares. Kutaniyaki was originally established by Kaga clan. Visit some of Kutaniyaki kilns to purchase one of the most historical Japanese ceramics.
Gourmet

Thanks to the fertile fishing grounds of cold Japan Sea, visitors can enjoy a variety of seafood such as crabs, shrimps, squids, buri (Japanese yellowtail), etc. Visit a local sushi restaurant which offers different kinds of seafood from the Pacific Ocean side. Enjoy Kaga cuisine, full-course kaiseki meal with local ingredients. Thanks to the prosperity of Kaga clan, visitors can enjoy beautiful dishes such as the famous Jibuni (braised duck) or grilled abalone with beautiful decoration. You can experience Kaga-style kaiseki at established ryokans or ryotei restaurants. If you have a sweet tooth, please do not miss Kaga-style Japanese sweets served with matcha tea.
Access
There are a variety of approaches to this area. Typical routes are as follows:
From Tokyo
Tokyo - [1 hr. by flight] - Komatsu
Tokyo - [4 hr. 30 min. by bullet train & limited express] - Kanazawa
From Osaka
Osaka - [3 hr. by limited express] - Kanazawa
Recommended Accommodations
These are a few hotels that we recommend. We can book other ryokans or hotels depending on your travel plan or budget. Please contact us by E-mail (commentsmtj@michitravel.com) or phone (81-3-523-5040).