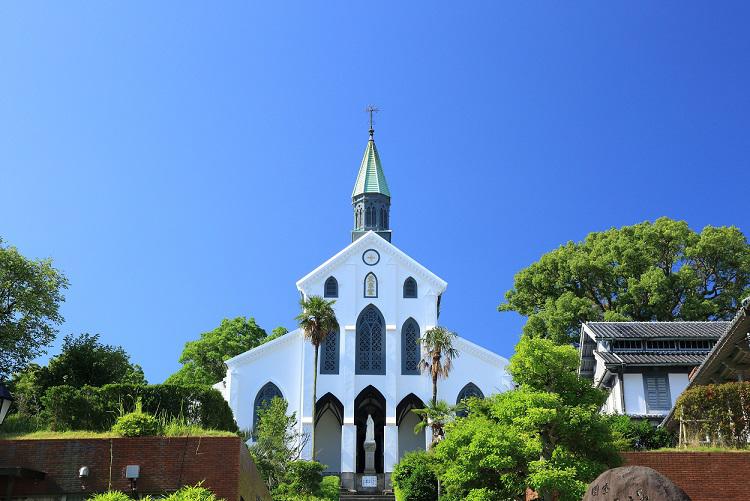 At a glance
Nagasaki played an important role as Japan ' s early gateway to trade with Western countries and China. Being influenced internationally from early days, Nagasaki is full of historical, traditional and cultural charms. I t also survived tragedies such as the persecution of the Christians and the atomi c bombing, and continues to pass down these unforgettable histories. G eographically, Nagasaki is mostly surrounded by the sea and consists of many small islands, which offers magnificent natural scenery in the coastal area.
Highlights
Nagasaki City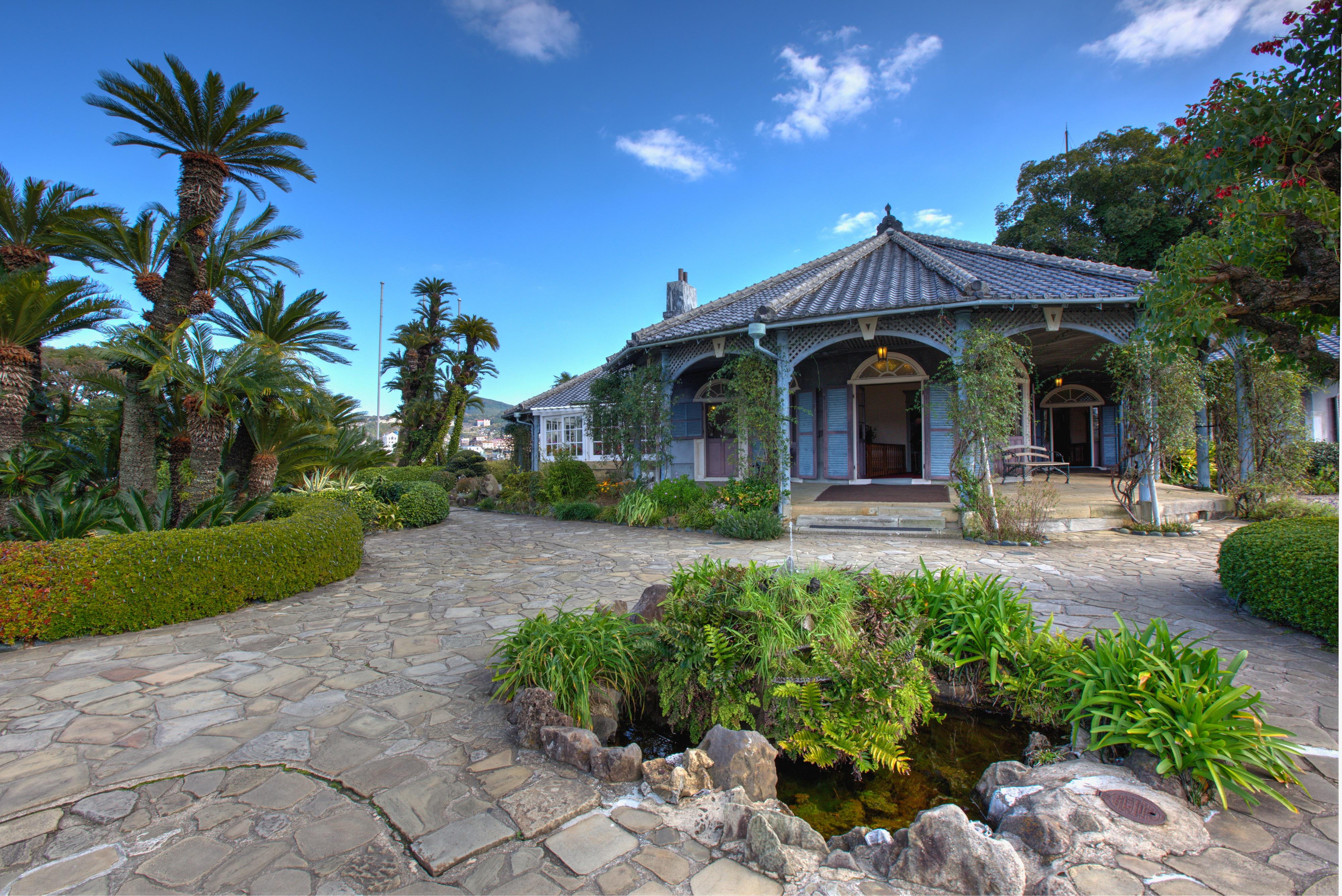 Nagasaki city was the only port city of trade with foreign countries during the isolation period, and was the first city where Christianity flourished during the 16th century. You can find the influence from other countries in many historical sites remaining throughout the city. Glover Garden is an open-air museum exhibiting former mansions of Western merchants who settled down in Nagasaki in the latter half of the 19th century after Japan's isolation policy was over. The oldest wooden Western-style residence in Japan has been preserved here too. Located on a hill, this is a great place to command a stunning view of Nagasaki Harbor.
Visit Oura Tenshudo Catholic Church, Japan's oldest wooden Christian architecture built in 1864 by French missionaries. This church has passed down the flame of the faith despite many obstacles including the prohibition of Christianity. This church faces Nishizaka hill to dedicate itself to the 26 martyrs who had been executed on the hill.
Another important spot of the history of Christianity in Nagasaki is Sotome, located on the northern coastal area of the city. Sotome was home to communities of "Hidden Christians", many of whom moved to this remote region from other parts of Nagasaki in order to practice their faith in secret during the time the Christianity was prohibited. Many historical sites can be visited here such as Shitsu Church and Kurosaki Church established after lifting the ban of Christianity in late 1800s. This area has been designated as UNESCO World Heritage Sites along with other historical remains as Hidden Christian Sites.
During Japan's isolation period, Japan expanded trade with China too. Nagasaki Chinatown is the oldest Chinatown in Japan established by Chinese traders. Today, there are many dim sum places, traditional Chinese restaurants, street venders and "Japanized" Chinese restaurants featuring Nagasaki specialties. Savor local specialties such as Chanpon (noodles with many ingredients established by Chinese residents) and Shippoku cuisine (a fusion cuisine combining the elements of Japanese, Chinese and European).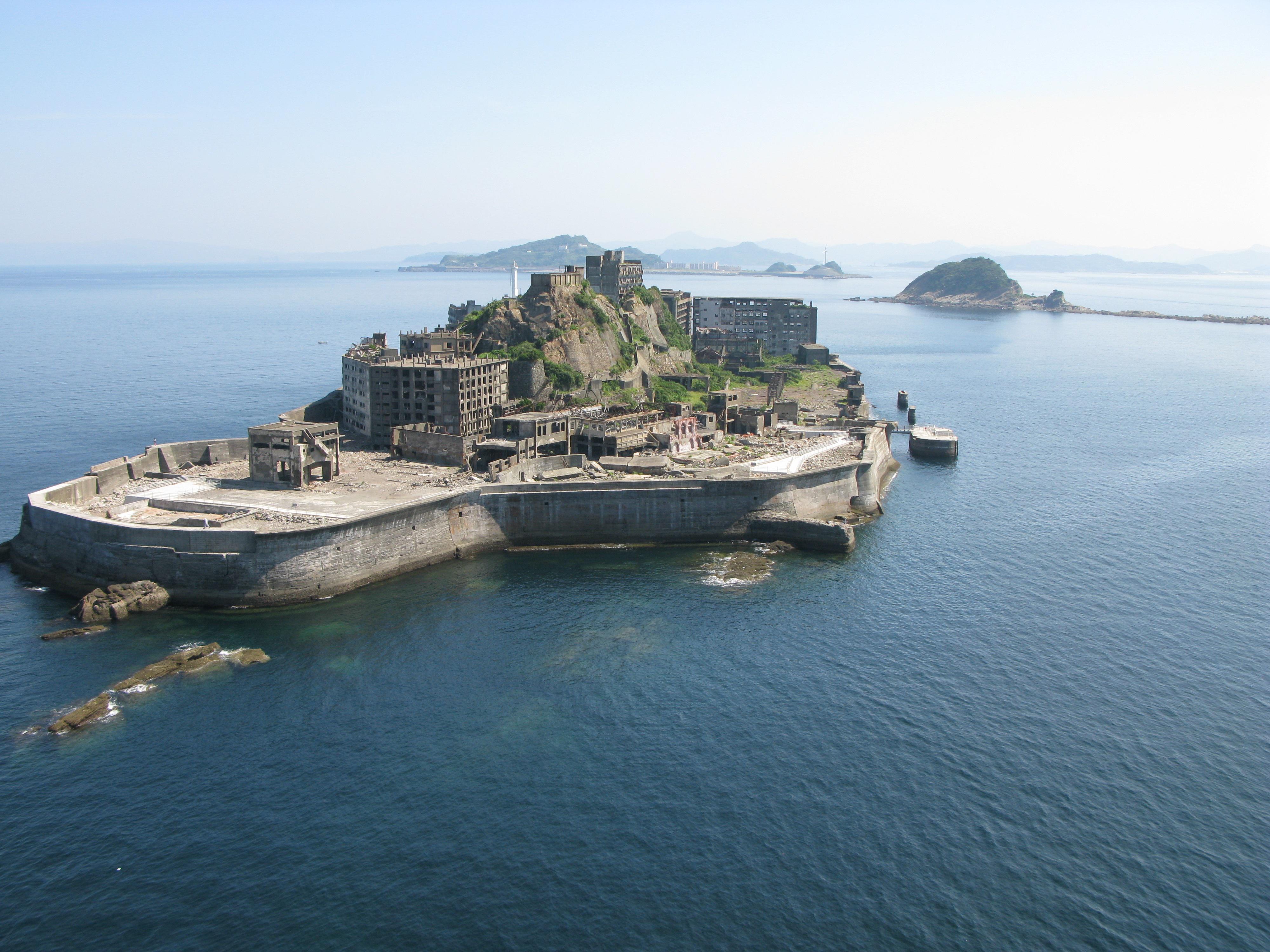 For the history of modern industry, Gunkanjima is one of the must-see spots. Gunkanjima is the island once flourished as a coalfield but now is abandoned and covered by walls made with whole concreate, looking like a battleship. It is registered as UNESCO World Heritage Site for its historical value based on its industrial heritage. During an island tour, a storyteller will explain the history of the island and the life of islanders at that time.
In recent history, the tragedy of the atomic bomb dropped on August 9, 1945, after Hiroshima, should not be forgotten. At Nagasaki Peace Park, see the Peace Statue sculptured by Seibou Kitamura, and visit The Nagasaki National Peace Memorial Hall for Atomic Bomb Victims where photographs of the victims are registered in order to teach the future generations about this catastrophe. At Urakami Cathedral which stands only 500 meters from the hypocenter, you will be able to see a group of charred stone saints left in place.
At night, do not miss the night view of Nagasaki city chosen as the best one in Japan. Mt. Inasa Observation Point at 333-meter-high offers great views over greater Nagasaki.
Sasebo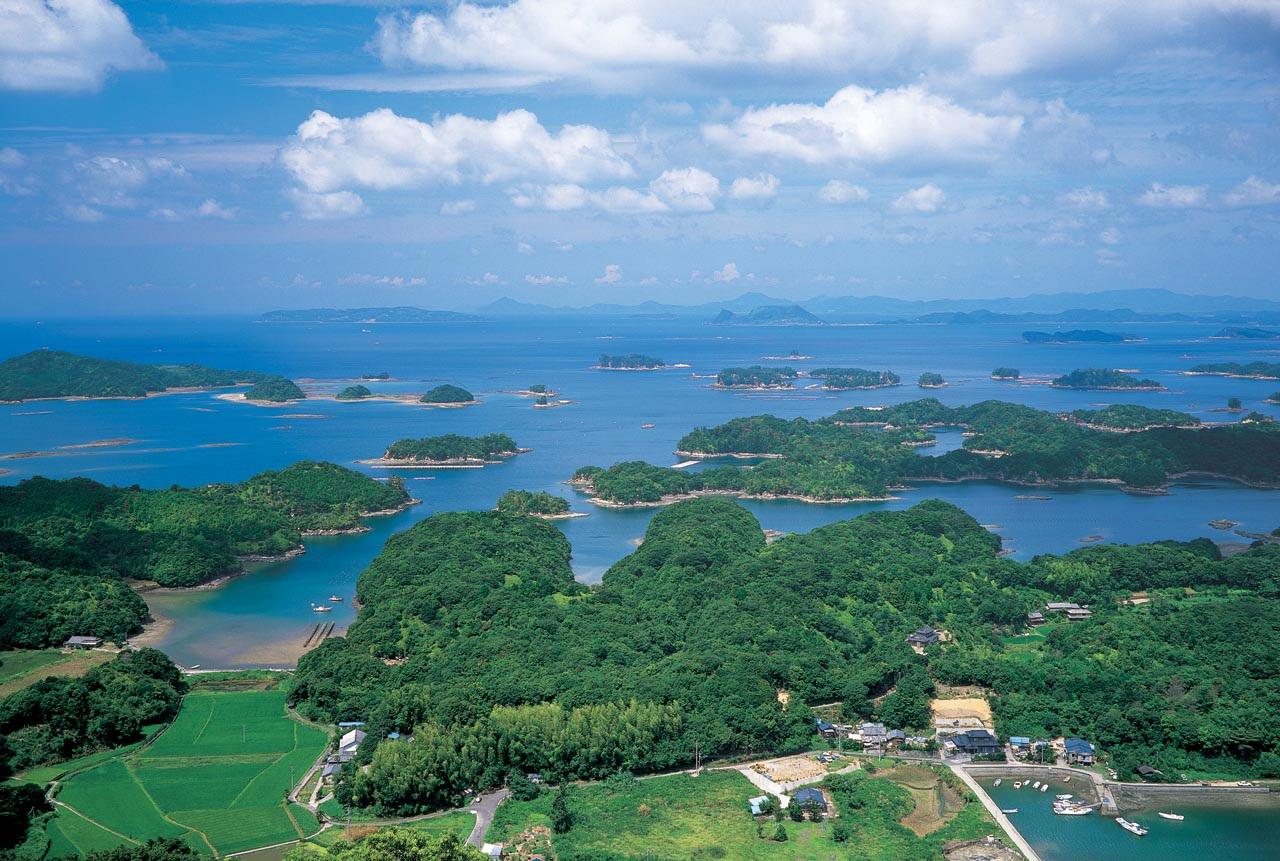 Located in the northern coast of Nagasaki prefecture, Sasebo is a port city offering scenic beauty of islands and unique atmosphere mixed with western culture. The most renowned spot for a stunning natural landscape is Kujukushima. Visit Tenkaiho observatory where you can appreciate the panoramic scenery of intricate rias coast with 208 islands. In a park under the observatory, seasonal flowers such as canola flower in spring and cosmos in autumn can be enjoyed.
For fun with your family or friends, visit Huis Ten Bosch, the most popular amusement park in Kyushu Island. The whole amusement park is a recreation of a Dutch town in the Middle Ages with a scenic canal, iconic windmills, picturesque gardens, and atmospheric European architectures, drawing you into the European world. Enormous gardens with seasonal flowers, unique events, attractions using the latest technology, highly reputed illumination at night are not to be missed.
Unzen and Shimabara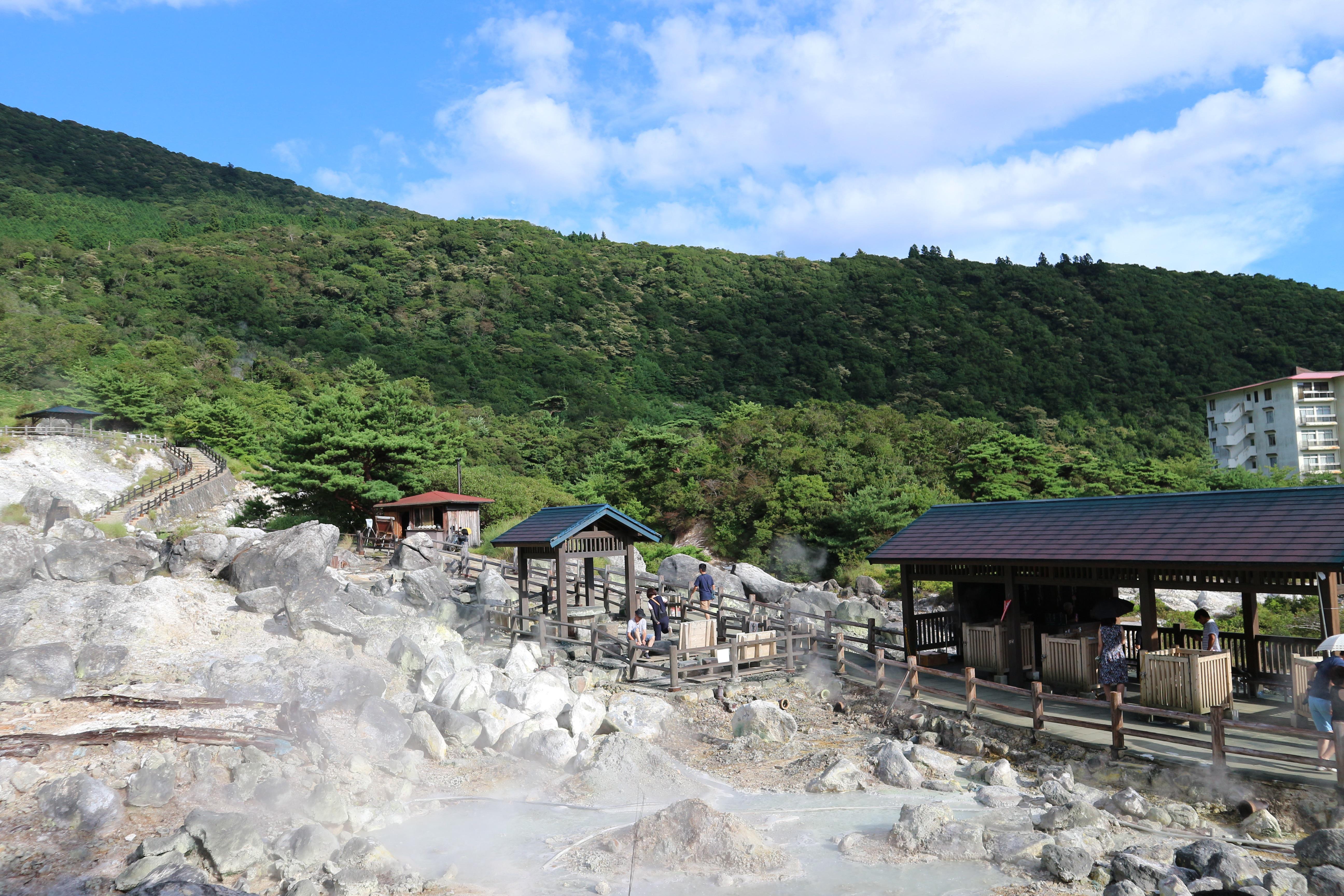 Unzen, registered as Japan's first national park in 1934, is the place for natural wonders and hot spring.
Explore Unzen Jigoku, which literally means "Unzen hells" in Japanese, where high-temperature hot springs and gas erupt violently everywhere with the strong smell of sulfur. This place also has a tragic history. Named for the hell-like appearance, many Christians were martyred here by the government in 17th century. There are monuments and anecdotes passing down this history. To command a wider view of Unzen Jigoku, take Unzen Ropeway to an observation deck. From a height of 1333m, admire the scenery of dynamic volcanic activity of Unzen Jigoku and mountains. Unzen Onsen flourished since it was opened as a summer resort for foreigners in Meiji era. Indulge yourself in hot spring water along with a view of vast greenery and Unzen Jigoku.
It is also worth visiting Shimabara which prospered as a castle town. Shimabara Castle was originally established in the early 17th century during the Edo period. There is a museum where Christian artifacts, weapons and armor are exhibited inside the castle. From the observatory on the 5th floor, a superb view of the historical town can be enjoyed. Encounter the life of samurai in old days in the westside of Shimabara Castle where samurai residences remain. The lower-class samurai used to live in this district, once called Teppo-machi (gun town). Explore the preserved streets and visit restored samurai houses which are open to the public.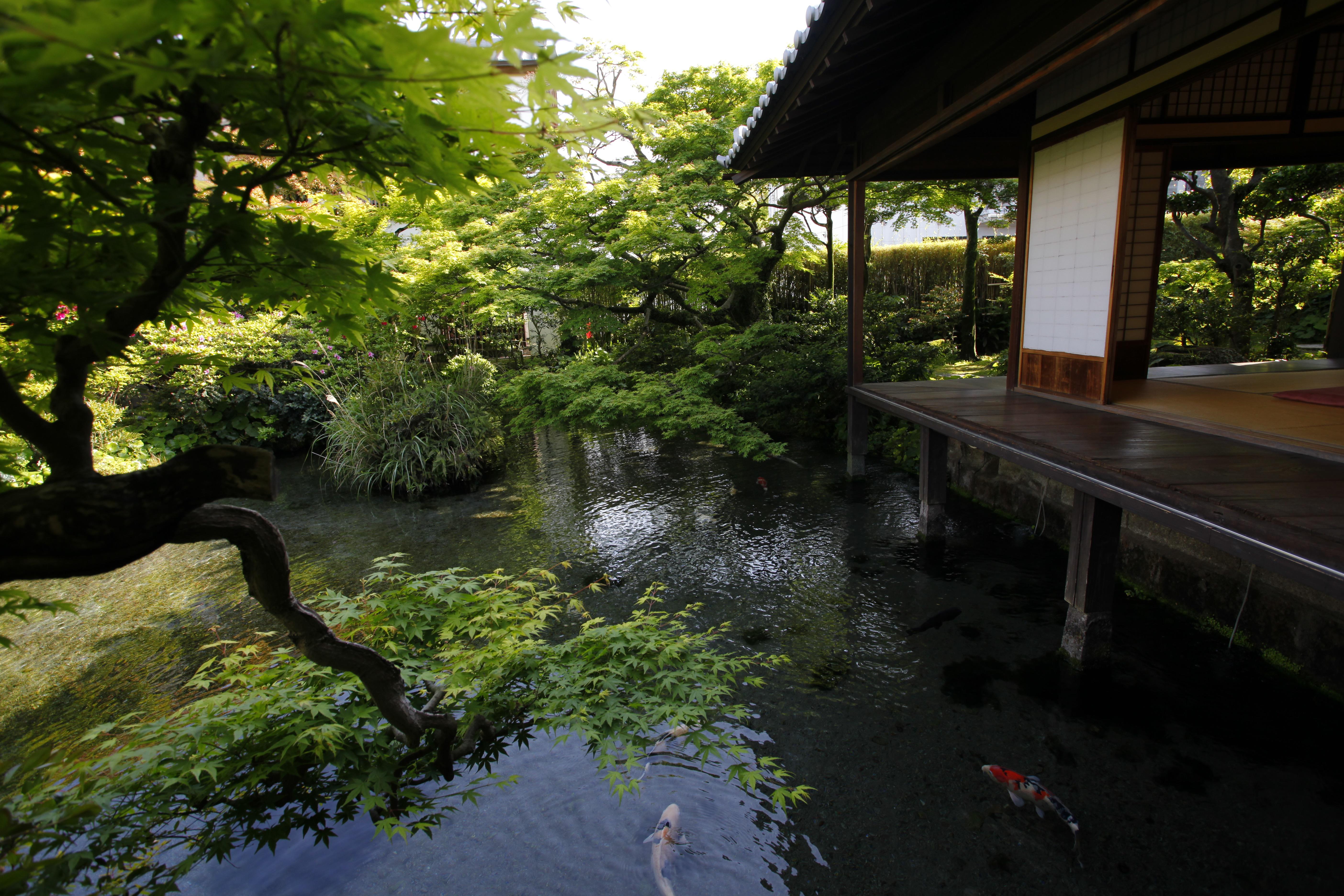 There is another historical site in Shimabara, Shimeiso Spring Garden established in the late Edo period. The most impressive feature here is a main Japanese traditional building constructed on a pond as if it is floating on transparent spring water. Visitors will be fascinated by beautiful scenery which can be enjoyed through all seasons.
Pictures on this page are provided by NPTA
Access
There are a variety of approaches to this area. Typical routes are as follows :
From Tokyo
Tokyo - [1 hr. 30 min. by flight] - Nagasaki
From Osaka
Osaka - [1 hr. by flight] - Nagasaki
From Fukuoka
Fukuoka - [2 hrs. by Ltd. Exp. Train] - Nagasaki
Click for Sample Tours
Custom travel in Kyushu
For more information, or to start customizing your own itinerary, please contact us.