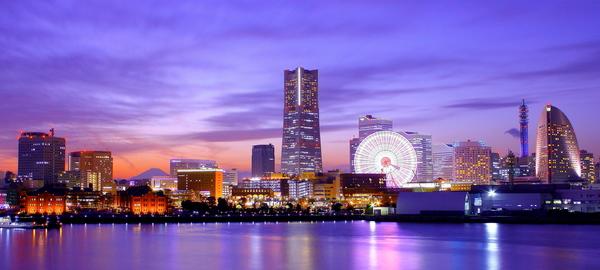 Experience our custom-made private tour of Yokohama with a licensed local guide.
Yokohama, the second biggest city after Tokyo, is a picturesque port city just 30 minutes away from Tokyo by train. Sophistication permeates at every corner of the city, from Motomachi area that retains an exotic atmosphere that dates back in times of old port town, to Minato Mirai 21 that is modernly redeveloped commercial district of the city. Buildings are well-designed to harmonize each other, offering a breathtaking view, particularly at stunning sunset time. Numerous culinary choices add to a pleasure of visiting Yokohama.
Sample Itinerary (8-hour tour)
It takes about 30 - 40mins by local train from Tokyo to Yokoyama. In Yokoyama, we recommend visiting the following places.
Sankei-en Garden:
This spacious Japanese garden was established by Sankei Hara who made a big fortune with silk trade back in 1906. There are 17 culturally important architectures (including 10 nationally registered important cultural properties) which are well laid out in harmony with the landscape of the garden. In each season, various kinds of flowers bloom beautifully, showing you the different faces throughout the year. During the stroll, drop by a rest house and enjoy a cup of Japanese green tea.
Motomachi shopping street:
About 150 years ago, Motomachi has started to flourish as a shopping destination for foreigners who started to settle down around this area after the Meiji Restoration. The ambience of this district has a trace of Westernization of that time. Nowadays, Motomachi shopping street is known as the high-class neighborhood and loved by posh ladies and gentlemen.
Yokohama Waterfront:
Yokohama has prospered as a port town for more than 150 years and now it is the second biggest city after Tokyo in Japan. Its waterfront area attracts not only locals but also the tourists from all over the world. Yamashita Koen is the waterfront park whose land is made of the rubbles caused by the Great Kanto Earthquake struck in 1923. The retired cruise ship, Hikawa-maru which is the oldest existing cargo-passenger ship is tied up to the park.
Just beside the park, China town which is the biggest and liveliest in Japan is located. For your lunch, try one of those fine Chinese restaurants. Your guide will give her/him recommendation for today's lunch place. Of course, there are many more lunch choices in Yokohama other than Chinese foods.
On the way to Minato Mirai 21 area, drop by Osanbashi Pier, main international pier in this area, where you can command a great view of Minato Mirai 21. The photogenic night view from here is one of the most cherished sceneries in Yokohama.
Minato Mirai 21:
Minato Mirai 21 is the major business, commercial, and entertainment district with the dominant buildings creating the unique ambience of Yokohama city. In this area, the shopping complexes are concentrated such as Landmark tower plaza, Queens Square, Mark is, World porters, and even more.
Since this area is full of entertainments and fine restaurants, you can end your tour here and enjoy the night life. Or if you stay in Tokyo, you can take a train back to Tokyo with your guide.
Price for this sample itinerary
(price per group)
| | 2 persons | 3 persons | 4 persons |
| --- | --- | --- | --- |
| 8 hours | 70,000 yen | 77,000 yen | 84,000 yen |
(10% consumption tax included)
Including: Nationally licensed English-speaking tour guide, admission fees, public transportation between your hotel in Tokyo and Yokohama
Not Including: Lunch
Note:
The price is for the above sample itinerary.

We will customize your own tour depending on your interests and time. Include any site you wish.

This itinerary assumes starting and ending in Tokyo. If you would like to start or end in other cities, please contact us for the price.
Private car from your hotel to Yokohama can be arranged for extra fee
Please contact for more than 5 persons
Request for a Private Tour
To request for a private tour, contact us by E-mail (commentsmtj@michitravel.com) or call us (+81-3-5213-5040). Please tell us the following information
your name, address, phone number
number of persons in the group
date of tour
meeting place (Hotel in Yokohama or Tokyo would be best)
interests
lunch requests
Allergies or food you cannot eat
Payment
Please pay by credit card. You will receive an E-mail with an URL where payment can be made online. The page is protected by Secure Sockets Layer (SSL) technology to ensure the safety of your credit card information. We accept Visa, Master Card, American Express, Diners, and JCB.
Request for a Private Tour
Private Tours in other destinations
We can also arrange privately-guided tours in other destinations throughout Japan. Also, your tours can be tailored to your specific interests such as culture, food, and nature.