The northern part of Ibaraki Prefecture, which can be reached by a 2 hour+ drive from Tokyo, is a place where visitors can enjoy rich nature, including mountains, waterfalls, and valleys, despite its proximity to Tokyo. In addition to joining unique activities in the nature, visitors can also learn about Japanese traditions such as Yamabushi (mountain priests) and Japanese washi paper.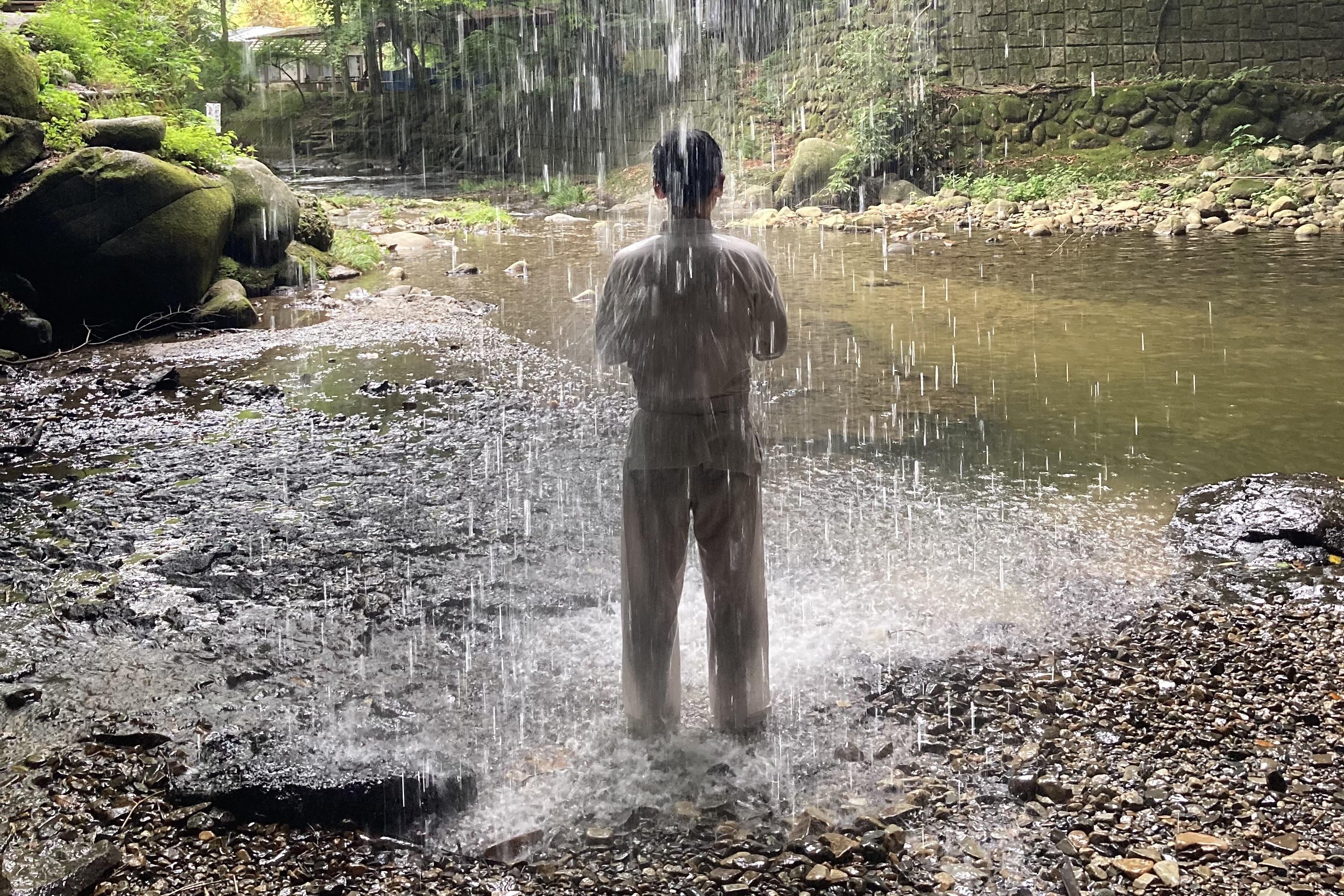 You can enjoy northern Ibaraki area as a one-day tour, but we strongly recommend combining it with our tour in central Ibaraki, Mito City, where you can learn about samurai culture from various aspects. The combined 1-night / 2-day tour will make your trip to Ibaraki a more holistic experience.
Sample Itinerary (12-hour tour)
Meet your guide at central Tokyo (subject to your preferred place) and move to northern part of Ibaraki Prefecture by your privately chartered car.
Start the tour by visiting Oiwa Shrine. After a guide of the shrine premise by shrine maiden (Miko), enjoy a 2-hour mountain hiking up to the top of Mt. Oiwa (altitude of 1,640 feet). With 188 shinto gods and goddesses enshrined, this mountain has been a mountain of faith, visited by many ascetic monks and Yamabushi since ancient times. Subject to availability, a mountain guide can guide you through the hiking.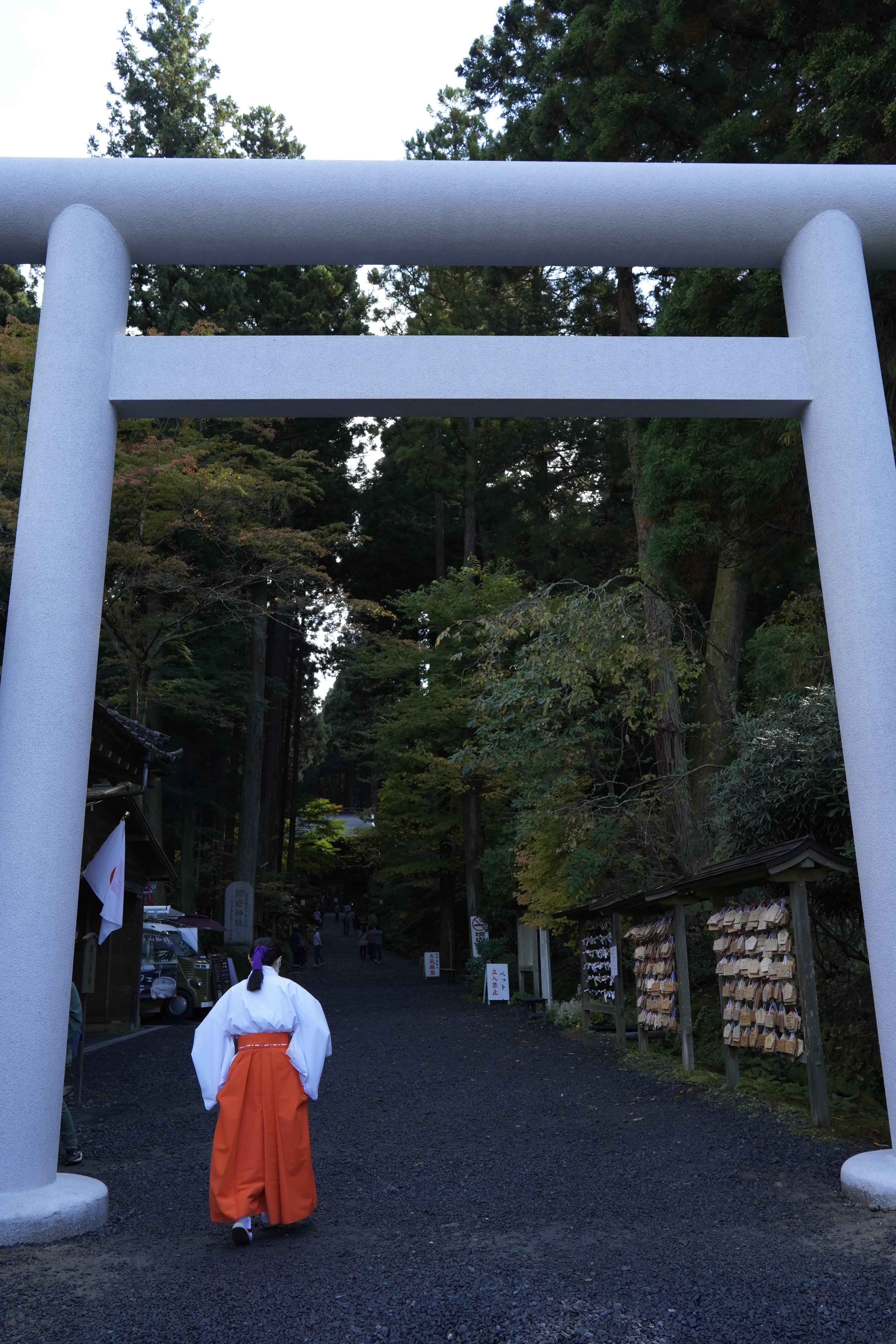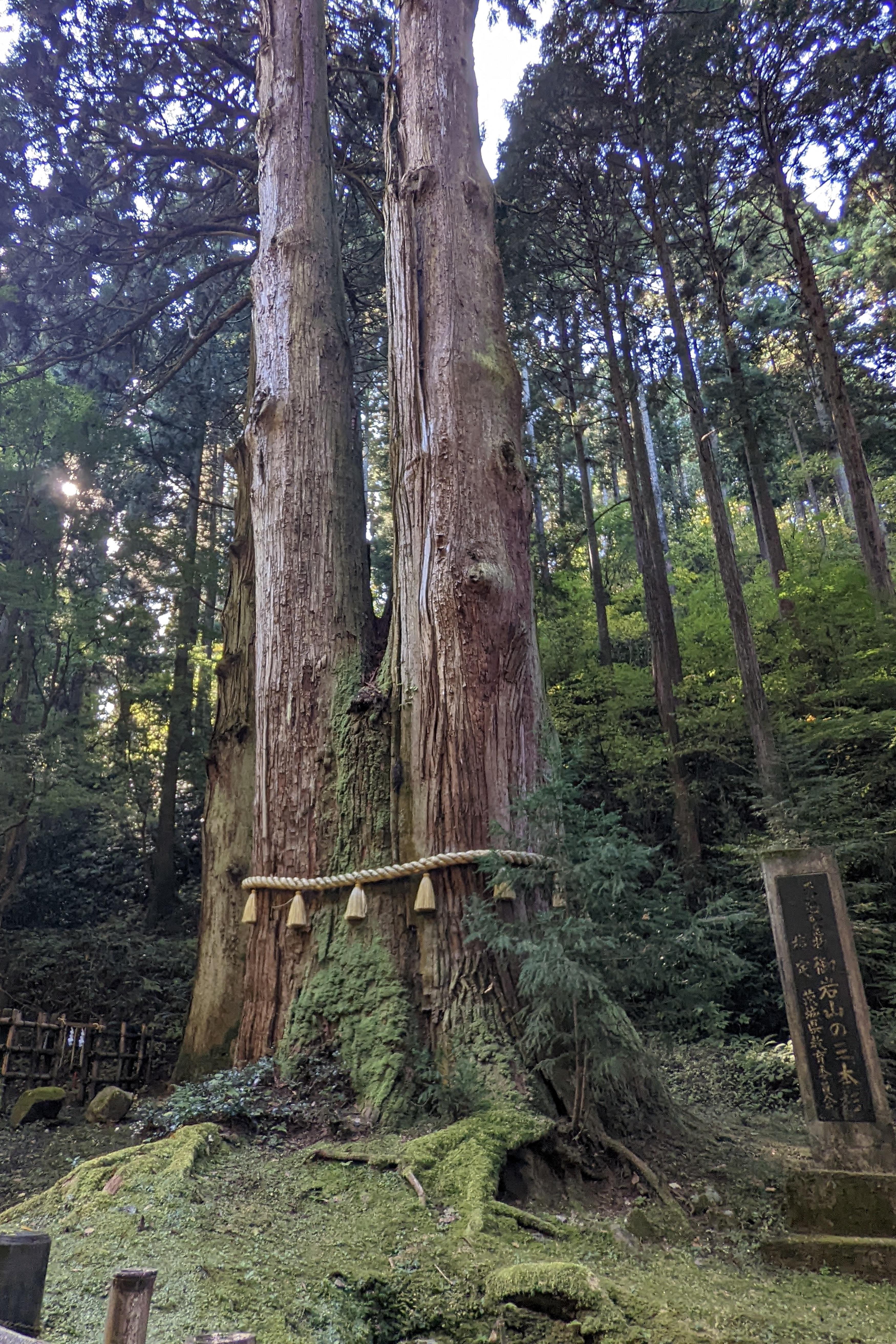 Photo by Kit Nagamura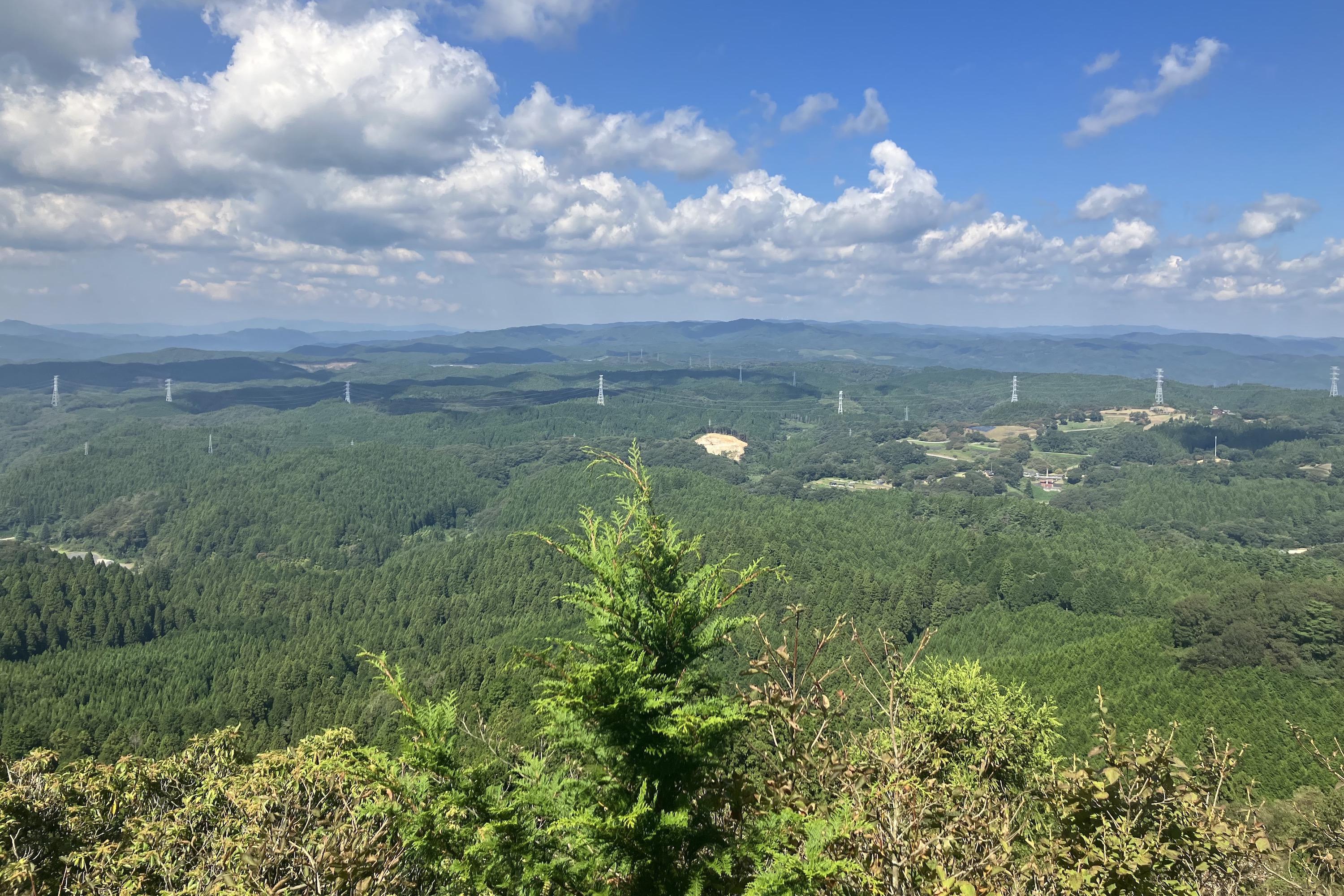 For your lunch, your guide will take you to a restaurant where you can enjoy local specialties, such as Okukuji Shamo (locally grown chicken), Hitachi Aki Soba Noodles, etc.
After lunch, visit a unique waterfall that you can go into, to try "Taki-gyo", meditation under a waterfall. It is truly refreshing and soothing to escape from the busyness of everyday life and to be hit by the randomly falling water. Although you are asked to act carefully and respectfully, there is no need to follow strict rules of practice here. Simply change to a " dogi" (clothes for judo) and meditate freely with your own style. You might feel like staying there forever. A homemade coffee break with a view of the waterfall will follow to reflect on the experience and warm up your body.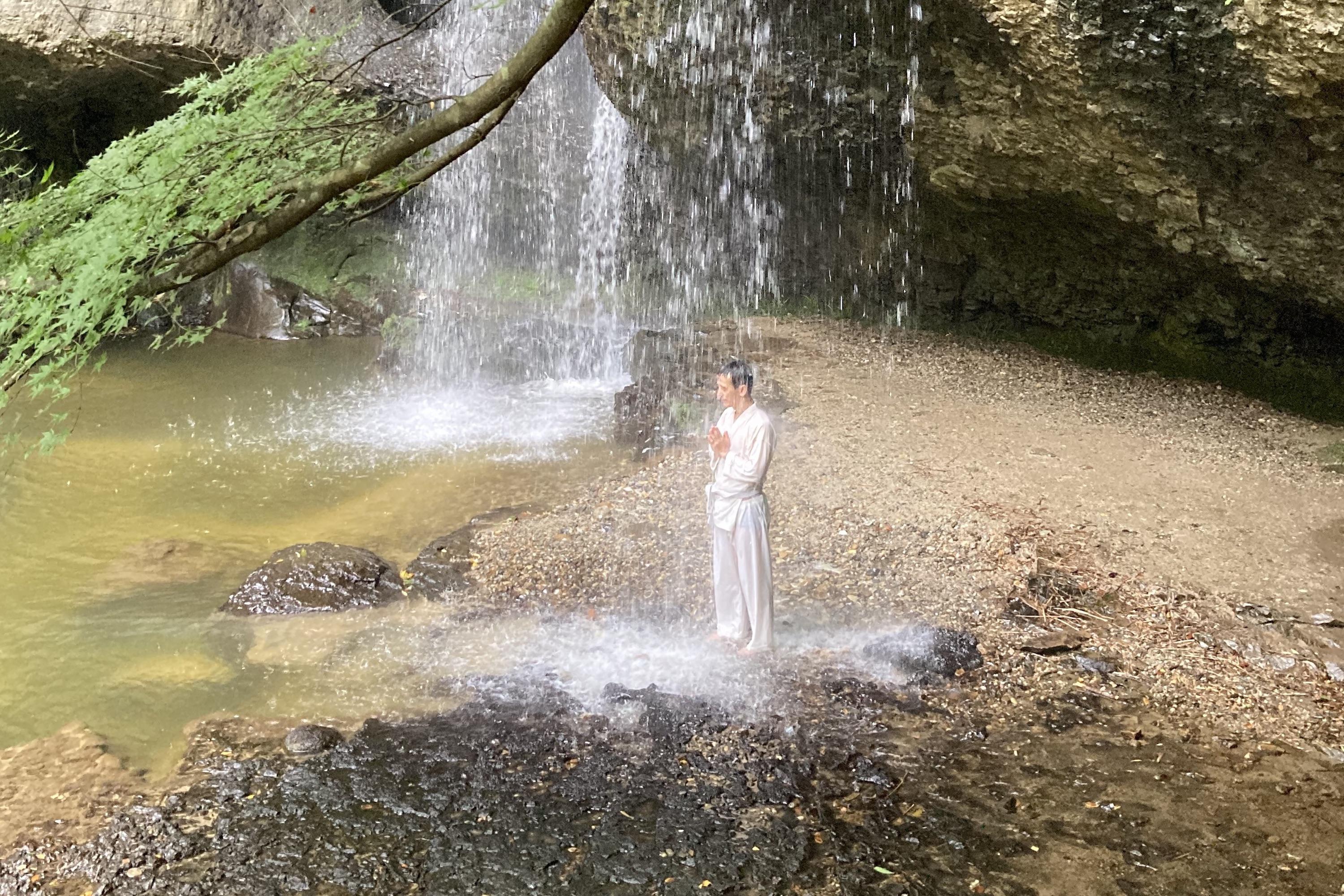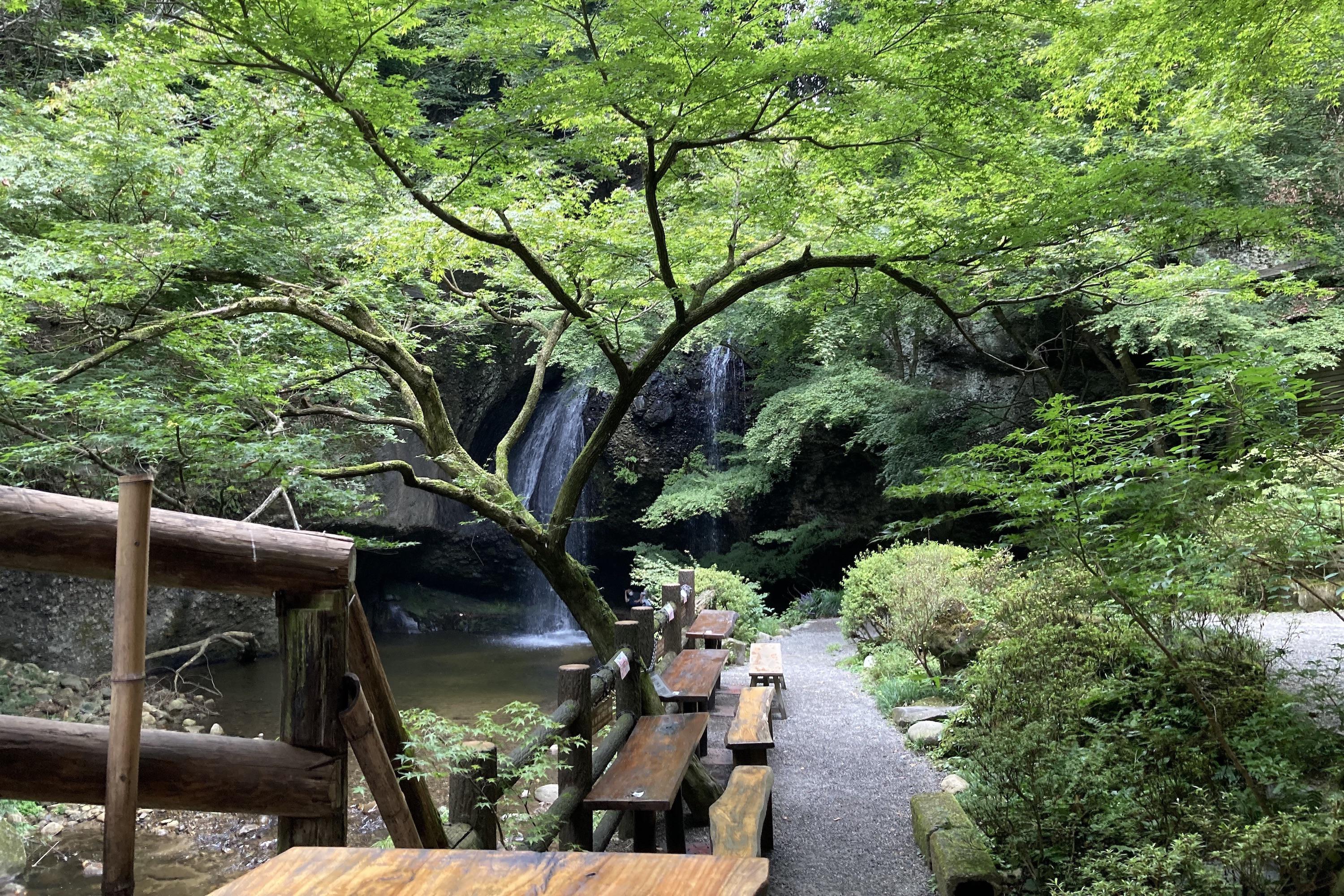 NOTE: In this tour, you will choose either a visit to Fukuroda Waterfalls or Nishino-Uchi Washi Kamino Sato (Japanese washi-making and demonstration).
Option A)
Fukuroda Waterfalls
Visit much larger waterfall, Fukuroda Waterfalls, one of the three famous waterfalls in Japan along with Kegon Waterfalls in Nikko and Nachi Waterfalls in Kumano. You will be overwhelmed by the width and the height of this four-step waterfall. Fukuroda Waterfalls changes its appearance from season to season, and each of it is worth seeing: fresh greenery in spring and early summer, autumn leaves in fall, and the entire falls frozen white in winter.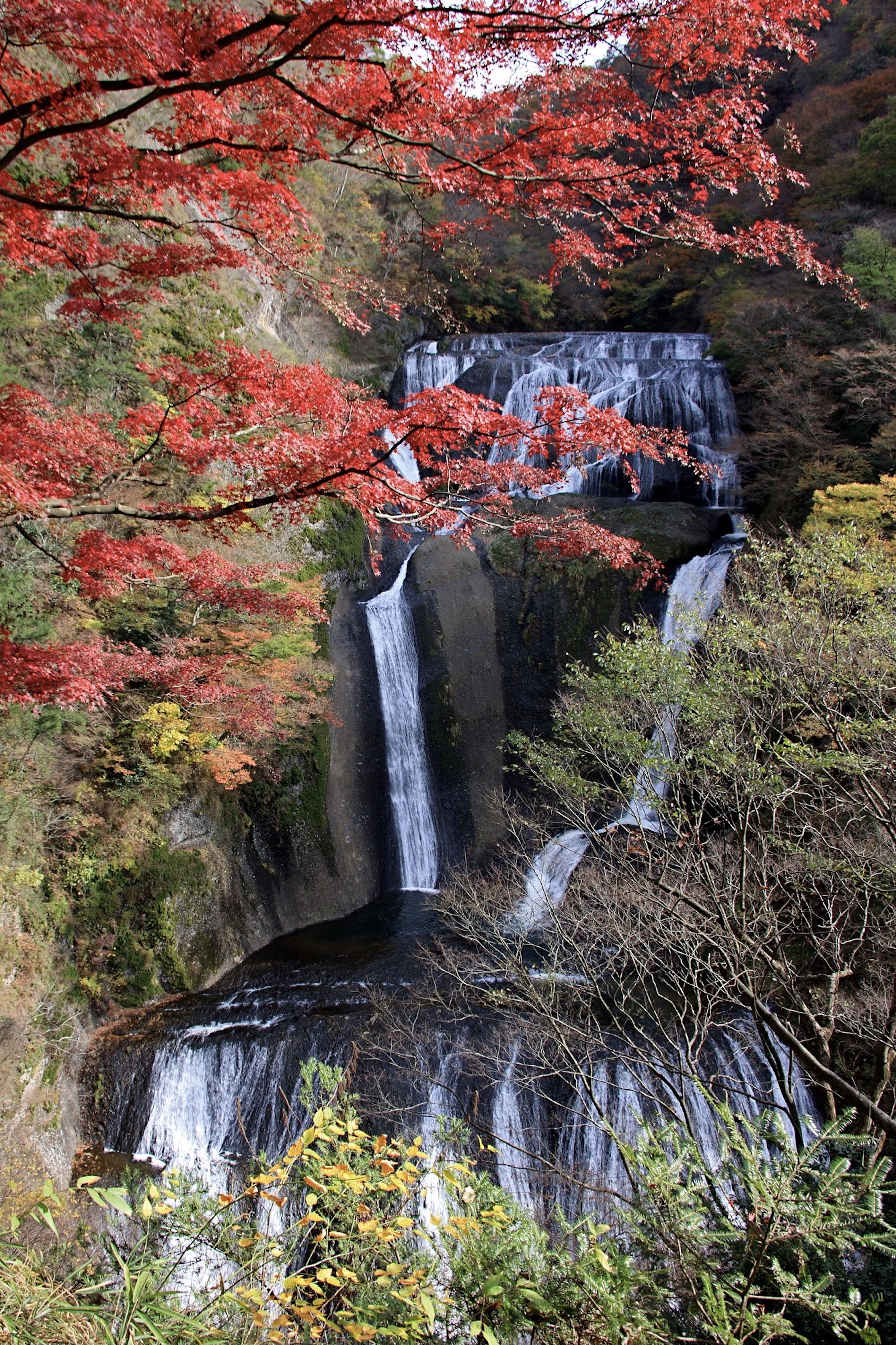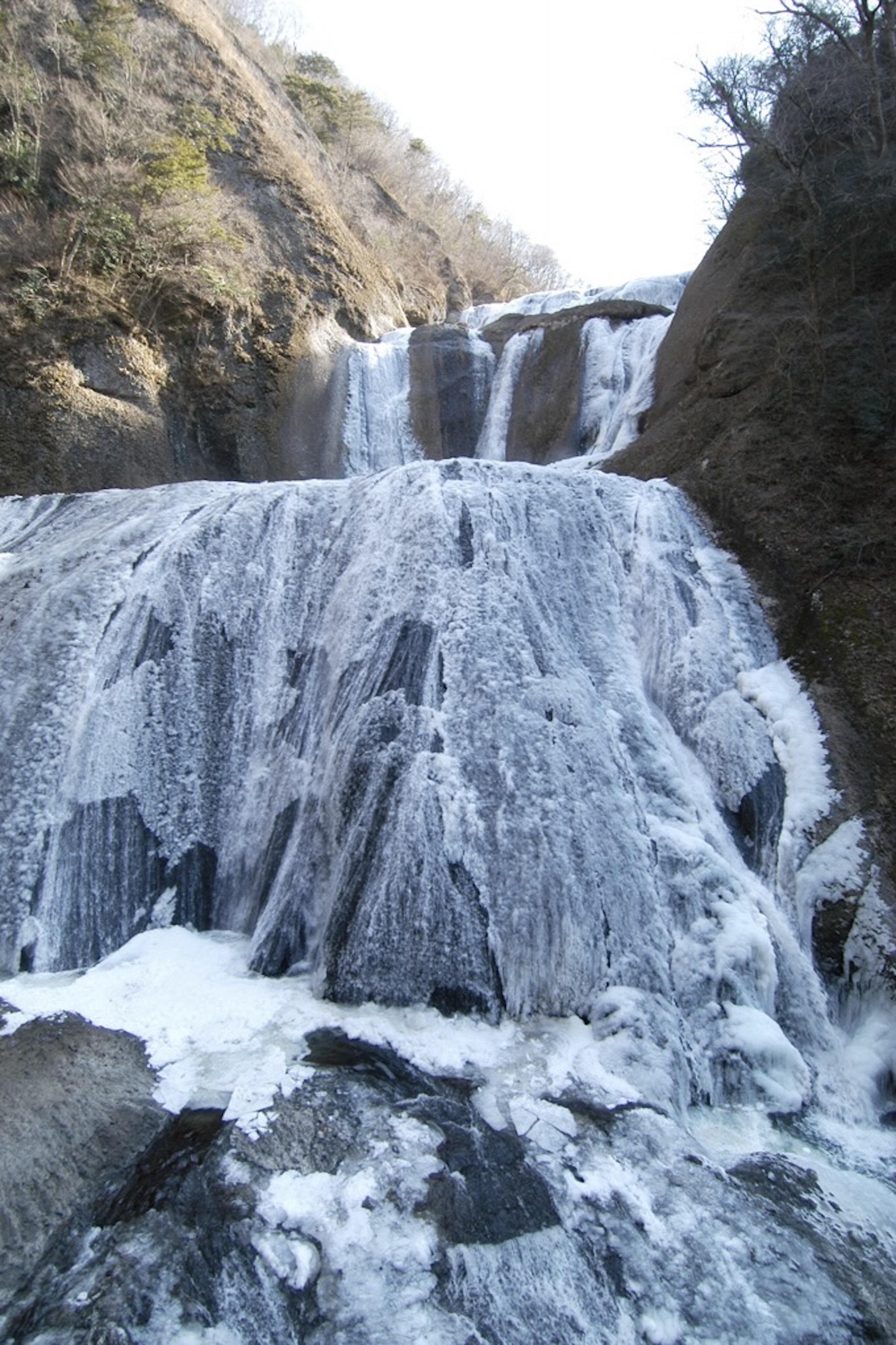 Option B)
Nishino-Uchi Washi Kamino Sato
Move to Nishino-Uchi Washi Kamino Sato, handmade Nishinouchi Japanese washi paper specialty store.
Marvel at the unique demonstration by the owner to understand the unique features including the durability of washi papers followed by your own washi-paper making/painting experience. This area is the production area of raw materials ("kouzo" or paper mulberry) for well-recognized washi paper in Japan including those in Gifu (Minoo-washi) and Fukui (Echizen-washi). The paper produced here also has been used locally for Mito-lanterns that were very popular in Edo back then. You can also join a Mito-lantern making experience in our Central Ibaraki Private Tour.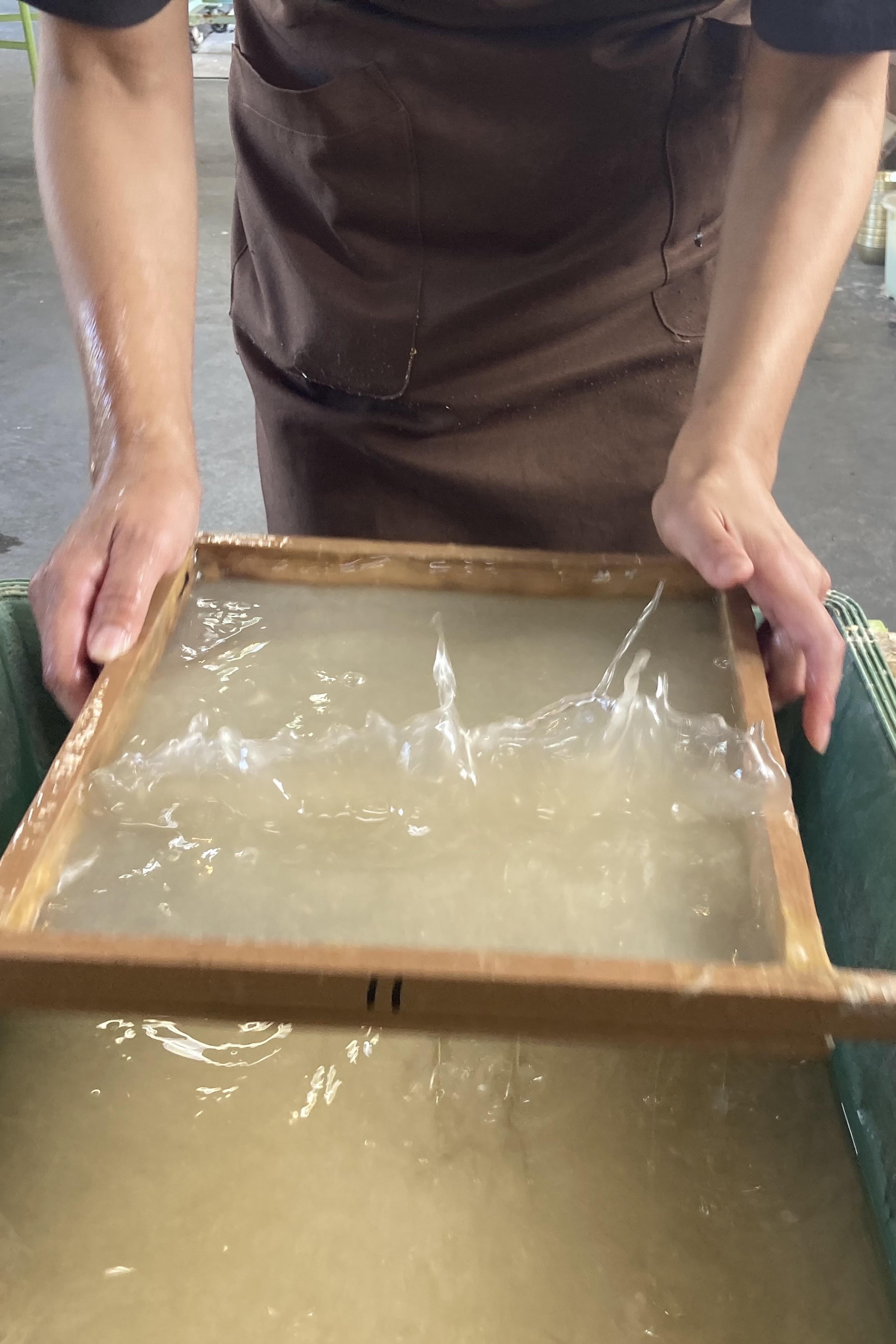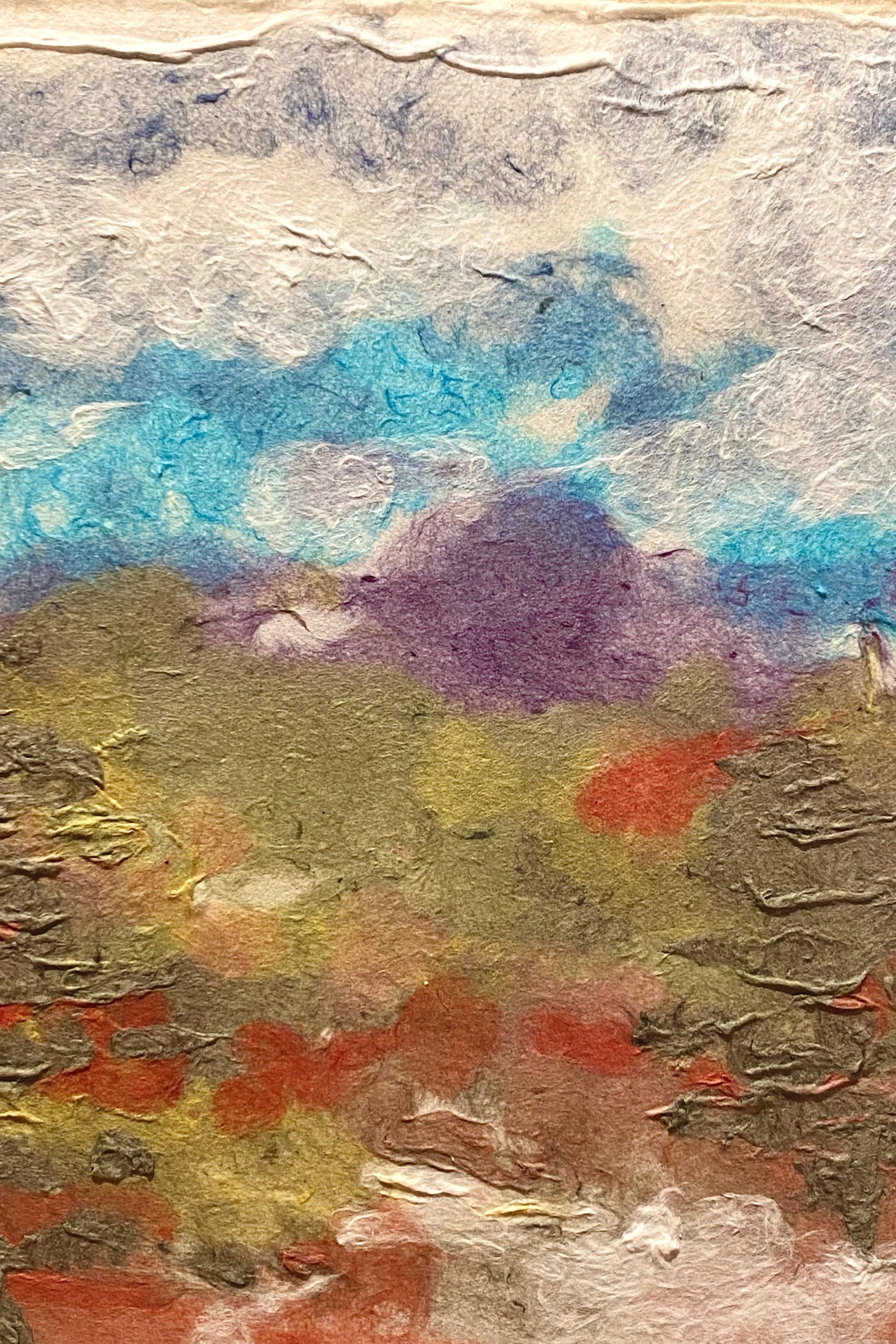 Photo by Kit Nagamura
Move back to Tokyo (or to Mito City to join the Central Ibaraki Private Tour).
Price for this sample itinerary*
(price per group)
| | 2 persons | 3 persons | 4 persons |
| --- | --- | --- | --- |
| 12 hours | 220,000 yen~ | 229,000 yen~ | 237,000 yen~ |
(10% consumption tax included)
*The price differs depending on your selection (Fukuroda Waterfalls or Nishino-Uchi Washi Kamino Sato), and the place where you would like to start and end the tour.
*The above price doesn't include the cost for the hiking guide since the availability is confirmed upon request.
Including: Nationally-licensed English-speaking tour guide, privately chartered vehicle with a driver, admission fees, service charge and consumption tax

Not Including: Lunch

Note:
Our private tours can be customized to your interests and preferences. Let us know any place you wish to visit.
The price above is set assuming that you will select Fukuroda Waterfalls and that the tour starts and ends at the central Tokyo. If you would like to visit Nishino-Uchi Washi Kamino Sato instead of Fukuroda Waterfalls or start and end in other places, please contact us for the price.
Tours can be arranged for a larger group. We will recommend appropriate vehicle taking your group size into consideration.
The tour details may change in accordance with seasonality, traffic and weather condition on the day.
Payment
Please pay by credit card. You will receive an E-mail with an URL where payment can be made online. The page is protected by Secure Sockets Layer (SSL) technology to ensure the safety of your credit card information. We accept Visa, Master Card, American Express, Diners, and JCB.
Request for a Private Tour
Why tour with us?
Customized Private Tour


We will customize your own tour depending on your interests and preferences. Since all tours are private tours, you can enjoy your tour thoroughly at your pace.
Nationally-Licensed Guides


Our locally-based guides who are knowledgeable, friendly and flexible ensure pleasant, comfortable and worry-free tours.
Authentic Experiences
Our travel consultants from all over Japan with network and knowledge

- not just highlights but also off the beaten paths -

work passionately to enrich your experiences.
Private Tours in other destinations
We can also arrange privately-guided tours in other destinations throughout Japan. Also, your tours can be tailored to your specific interests such as culture, food, and nature.