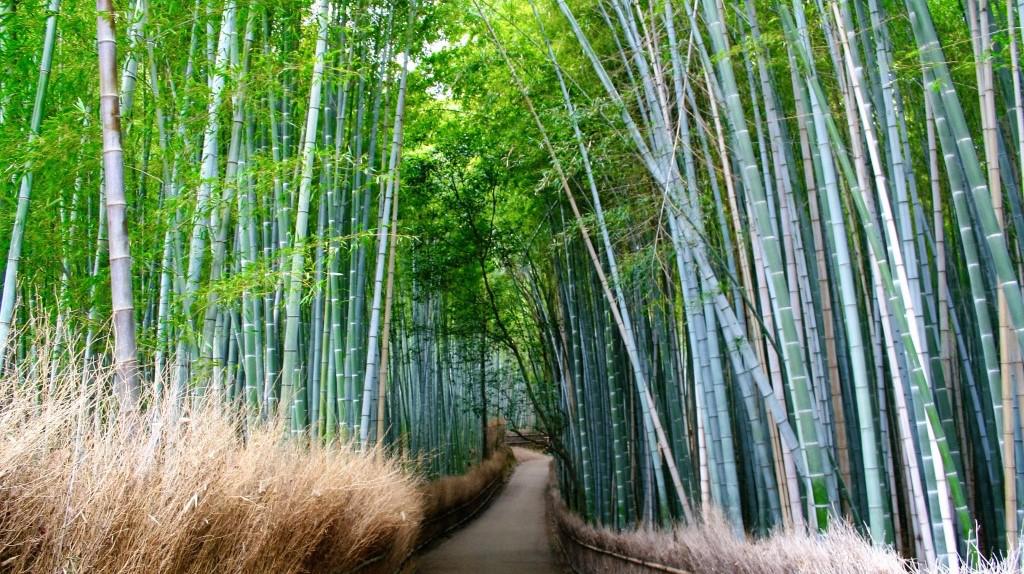 Since the end of 8th century, Kyoto was the capital of Japan for over 1000 years. During this long period of time, rich culture had contiuously emerged, and is still maturing even today. Many arts, crafts, culinary arts, and forms of entertainment were produced, and religious rituals have been practiced. These have been passed down from generations and generations, and are deeply rooted in the life of the people in Kyoto. With the assistance of our guides, catch a glimpse of some of the traditional art & culture, and experience them yourself to feel the rich history of Japan.
Sample Itinerary (8-hour tour)
Visit Arashiyama, the western district of Kyoto with pleasant nature of mountains, a river, and bamboo grooves.
Tenryuji Temple, situated in the center part of Arashiyama, is a leading Zen temple famous for its landscape garden.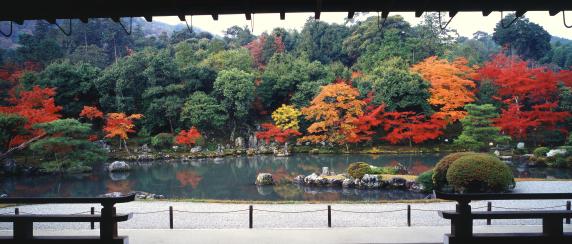 Behind Tenryuji temple is a picturesque walking path along the bamboo groves. Various kinds of crafts made out of bamboo can be found in specialty shops in Kyoto.
Visit Kinkakuji Temple, which is called The Golden Pavilion, because it is covered with golden leaves. The temple, registered as the UNESCO world heritage, is one of the "must sees" of Kyoto.
Nijo Castle is another popular world heritage site. The castle was built by samurai Ieyasu Tokugawa, the founder of the powerful Edo Shogunate. The architecture, decorative carvings, and ornamentation display the artistic essence of this period.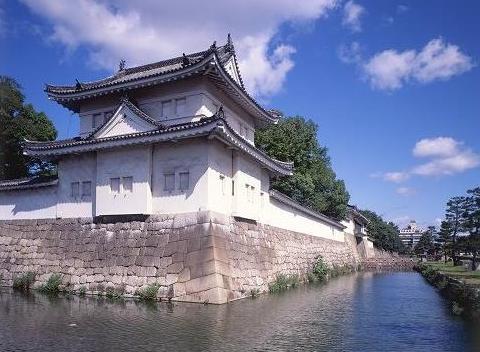 Visit a machiya (traditional wooden townhouse). Typically, machiyas were owned by a merchants or craftsmen. The building has a narrow entrance, and stretches deep into the block, with a small garden. Explore inside the machiya to see its unique architectural forms.
End your tour in Gion, the entertainment district of Kyoto with ryoteis (high-class Japanese restaurants), bars, kimono related shops, traditional craft shops, and souvenir shops. In the evening, you might be able to see Geisha and Maiko.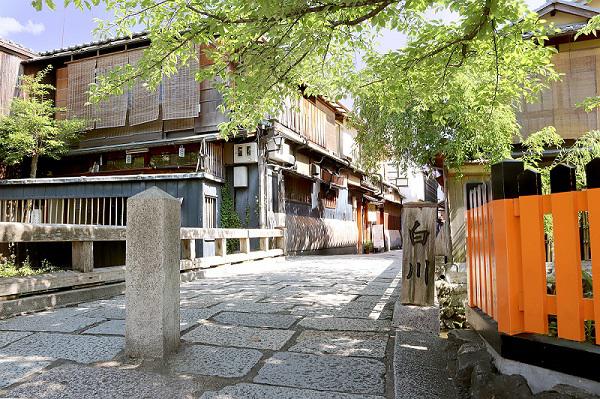 Return back to your hotel.
*As for lunch, the guide will recommend a nice restaurant which serves Kyoto's specialties such as Tofu, Kyoto-style kaiseki cuisine, Shojin cuisine (monk's vegetarian dishes), etc.
Also please see:
Activities we can arrange in your tour
Traditional & Modern Culture

World Heritage Temples and Shrines
Walk through picturesque paths with traditional buildings
Tea Ceremony
Kimono Wearing
Ikebana Flower Arrangement
Geisha Dinner
Wagashi (Japanese sweets) making
Sake Brewery

Shopping

Antiques
Traditional crafts
Unique Kyoto food

Gourmet

Luxury or local restaurants
Shojin (Buddhist vegetarian) lunch
Cooking Class
*Extra fees may be added to your tour price for certain activities.
Price for this sample itinerary
(price per group)
| | 2 persons | 3 persons | 4 persons |
| --- | --- | --- | --- |
| 8 hours | 78,000 yen | 85,000 yen | 96,000 yen |
(10% consumption tax included)

Including: Nationally-licensed English-speaking tour guide, admission fees, public transportations

Not Including: Lunch

Note:

Our private tours can be customized to your interests and preferences. Let us know any place you wish to visit. If you would like to include one of the activities/sites among above-mentioned "Activities we can arrange in your tour", please let us know.
The price is for the sample itinerary above. Price may be subject to change depending on the activities/sites you choose.
Day trips to Kyoto from other cities can be arranged upon request. (ex. From Osaka, additional 10,000 yen per group will be charged as it takes 2 hours for round trip, which makes 10-hour tour. For other cities, please contact us.)
Private car can be arranged for extra fee.
Tours can be arranged for a larger group. We will recommend appropriate transportation taking your group size into consideration.
Payment
Please pay by credit card. You will receive an E-mail with an URL where payment can be made online. The page is protected by Secure Sockets Layer (SSL) technology to ensure the safety of your credit card information. We accept Visa, Master Card, American Express, Diners, and JCB.
Request for a Private Tour
Why tour with us?
Customized Private Tour


We will customize your own tour depending on your interests and preferences. Since all tours are private tours, you can enjoy your tour thoroughly at your pace.
Nationally-Licensed Guides


Our locally-based guides who are knowledgeable, friendly and flexible ensure pleasant, comfortable and worry-free tours.
Authentic Experiences
Our travel consultants from all over Japan with network and knowledge

- not just highlights but also off the beaten paths -

work passionately to enrich your experiences.
Recommended Accommodations
Private Tours in other destinations
We can also arrange privately-guided tours in other destinations throughout Japan. Also, your tours can be tailored to your specific interests such as culture, food, and nature.