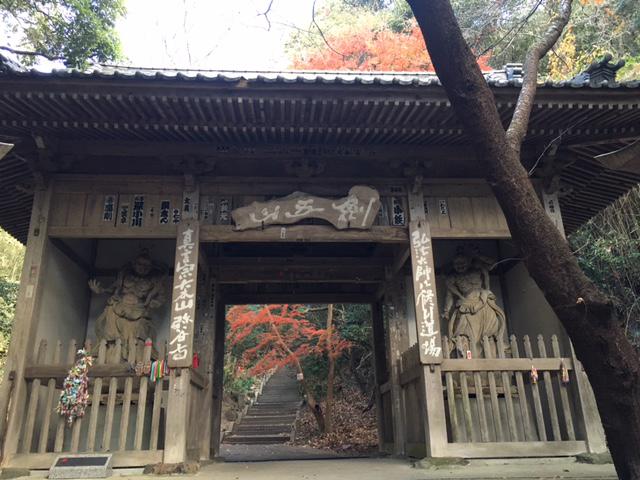 I have been intrigued by why Shikoku Pilgrimage, called Henro, has been practiced by many for a surprisingly long period of time. Henro is a circular route of 88 sacred temples established by the great Buddhist priest, Kukai over 1200 years ago. Most serious pilgrims keep walking 1400 km throughout 88 temples in about 40-50 days. Though I cannot take 40-day long vacation on a single trip, I try to walk on a part of the trail when I have a chance to visit Shikoku. Today, taking advantage of an extra day in Shikoku, I took a day trip from Takamatsu, business capital of Shioku island. I took an express train Ishizuchi from JR Takamatsu station for about 30 min. to Takuma, nearest station from Iyadaniji (Temple #71). You could start walking from Takuma station, but I took a taxi for 7 min. to Iyadaniji which is the starting point of my trail for today.
Iyadaniji is situated hilltop of a sacred mountain. I was welcomed by 500+ staircase, an inspiring approach in the deep forest leading to the main hall (Hondo) of the temple.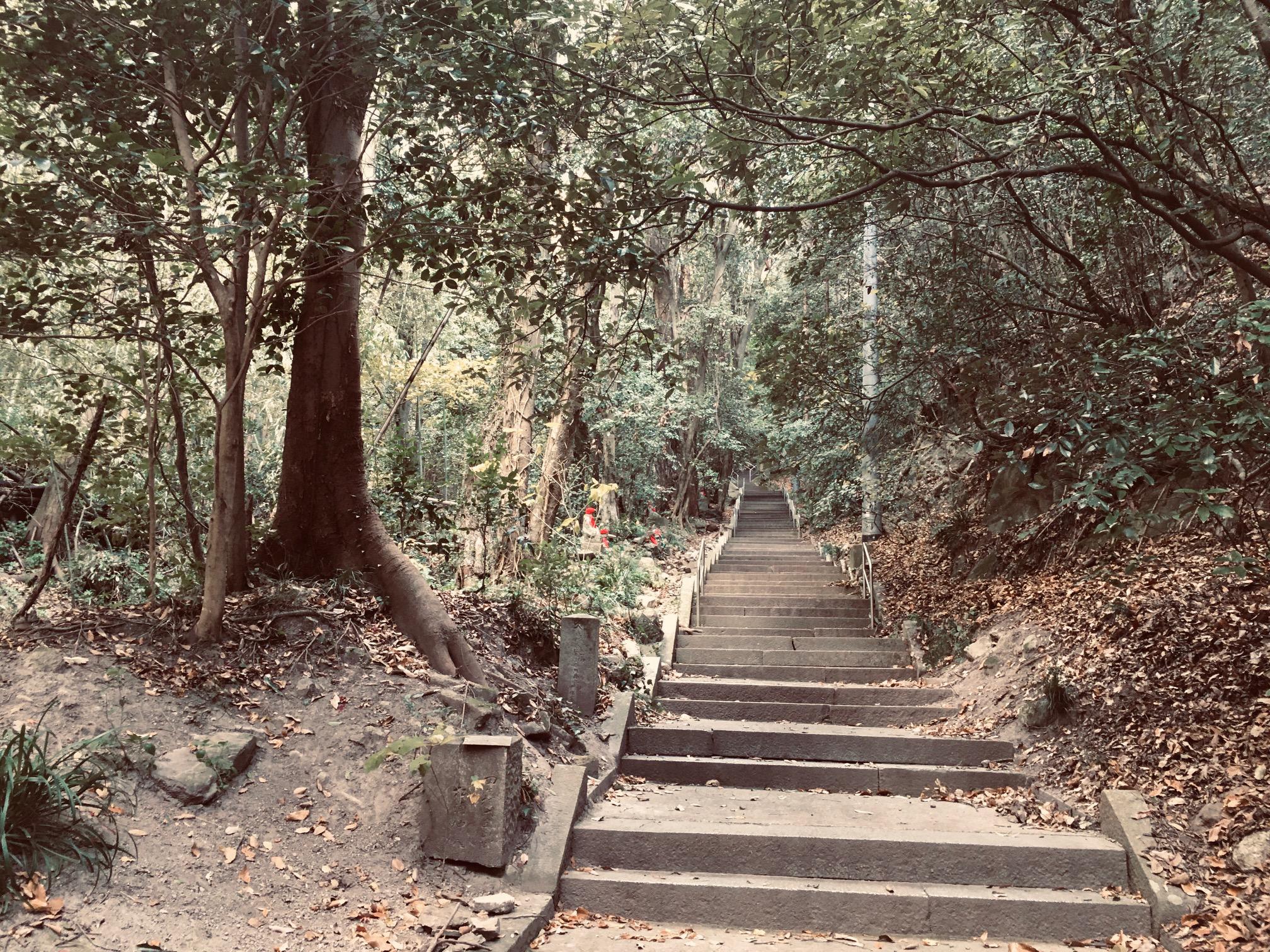 But nothing very hard, rather, it was a good warm up. Statues and tombs were carved on the cliff along the approach climbing up to the Hondo. The view from Hondo was spectacular. Reciting Hannya Shingyo Sutra, I received a temple stamp in my pilgrimage book and briefly explored Taishi-do that houses impressive carved statue. Then, I left Iyadaniji for the next. The first half of the path leading primarily downward to Temple #72 is an unpaved path in the bamboo grove, called Mandaraji michi.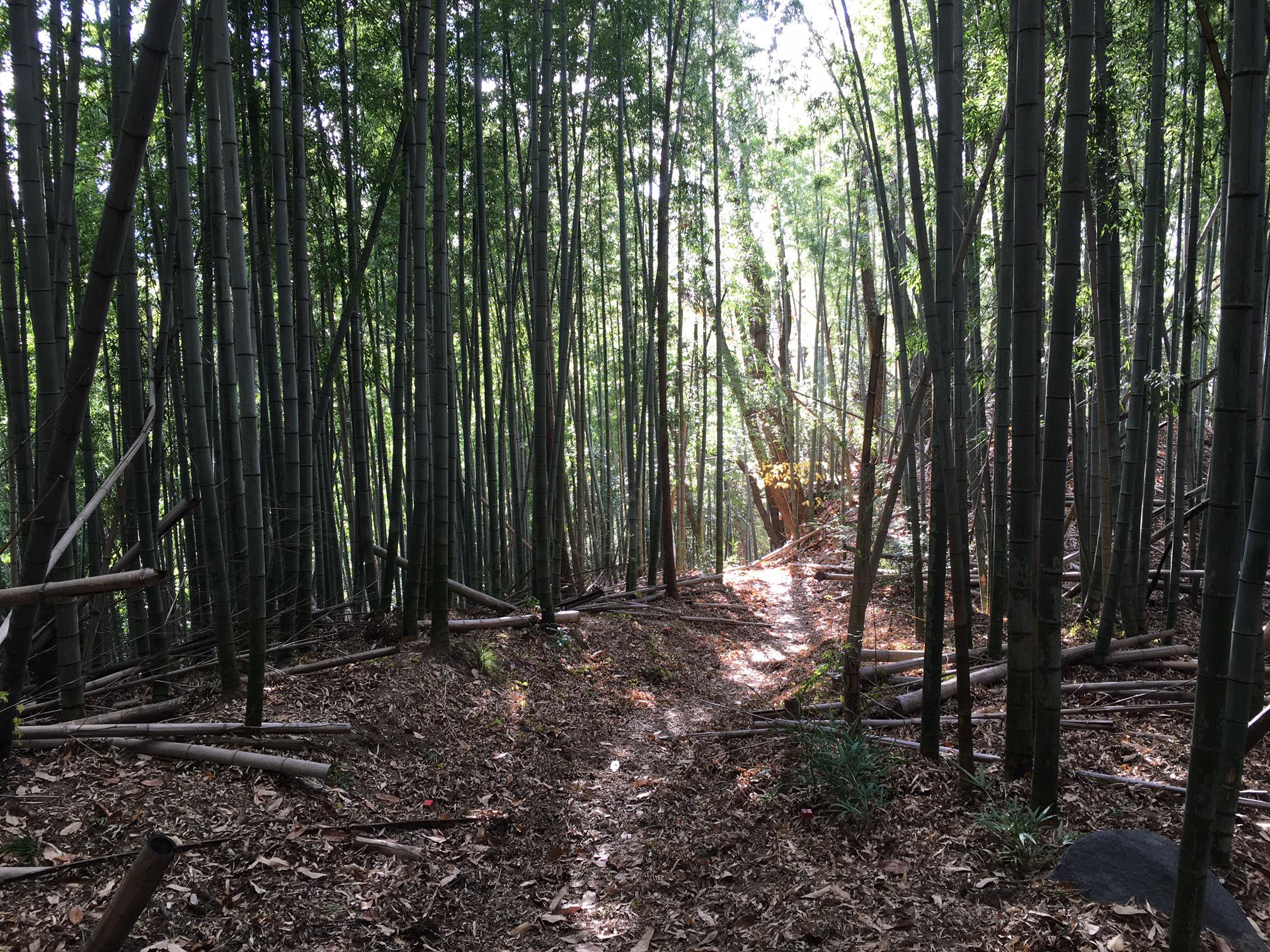 I always prefer unpaved old path rather than paved street. I enjoyed the stroll through the bamboo grove, though the surface was rather slippery with tons of fallen leaves. If it were raining, the road would have been much more slippery. After passing through bamboo grove, you will walk through countryside of Shikoku. You walk along Tameike, rainwater storage pond, which is typical in Kagawa since this area has relatively limited rainfall. One-hour easy hike led me to Mandalaji, Temple # 72.
Followed by Mandaraji, I visited Shusshakaji (#73). The temple main hall is easily reachable in several minutes from Mandaraji. And most visitors would then go to the next temple. But if you are interested and you don't mind challenge, it is highly recommended to visit further and higher to "Shashin-ga-take Zenjo". The legend has it that Kukai threw away himself at the age of seven praying for saving all beings. The site is called "Shashin-ga-take Zenjo" which is now Okunoin of #73 temple.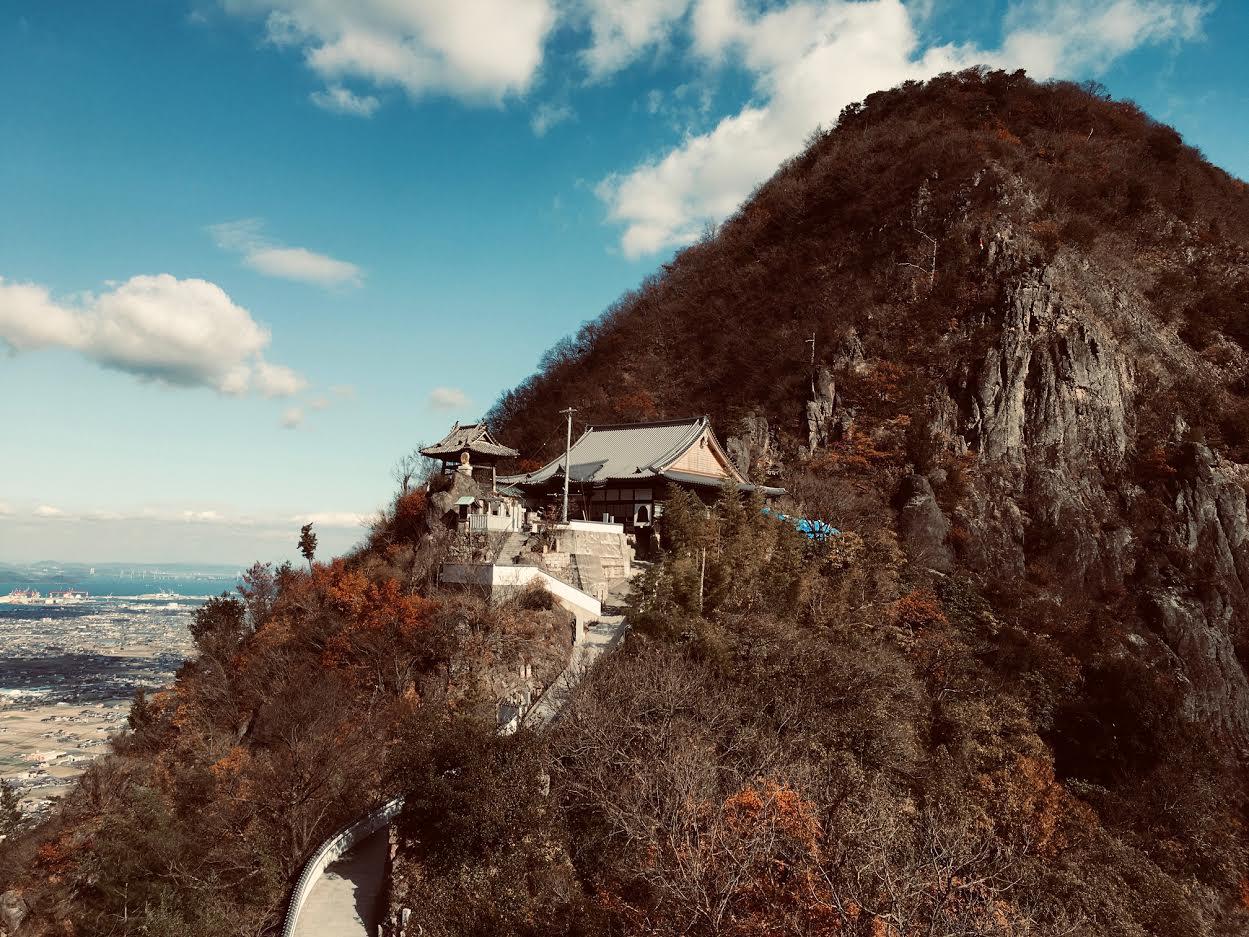 It took about 40 min. on foot from the #73 temple. Please note that the path to Okunoin is very steep upward slope. This whole mountain where Kukai trained creates very spiritual ambience. I was rewarded by a great 360-degree view. If you want to really reach the place of the legend (cliff), from Okunoin to the cliff, you have to climb near-vertical "kusari" (iron chain), so please decide whether you do so or not on your own risk.
Actually, I started climbing, since it seemed natural for me to do so. I even bought a glove for this purpose this morning at seven-eleven. Struggling to just a stone's throw away from the cliff, however, the wind got too strong to safely keep moving upward (there was no one except myself). So, I gave up today. It was a pity, but I interpreted that my failure to reach the cliff today gave me a reason to come back in the future.

Whether you climb up the iron chain to the cliff or not, the view from Shasingatake Zenjo is very rewarding. Spectacular views of Seto Inland Sea and Sanuki Plain on the north and countryside landscape on the south are both beyond description. I spent some time overlooking this magnificient view, which Kukai probably also admired in the past.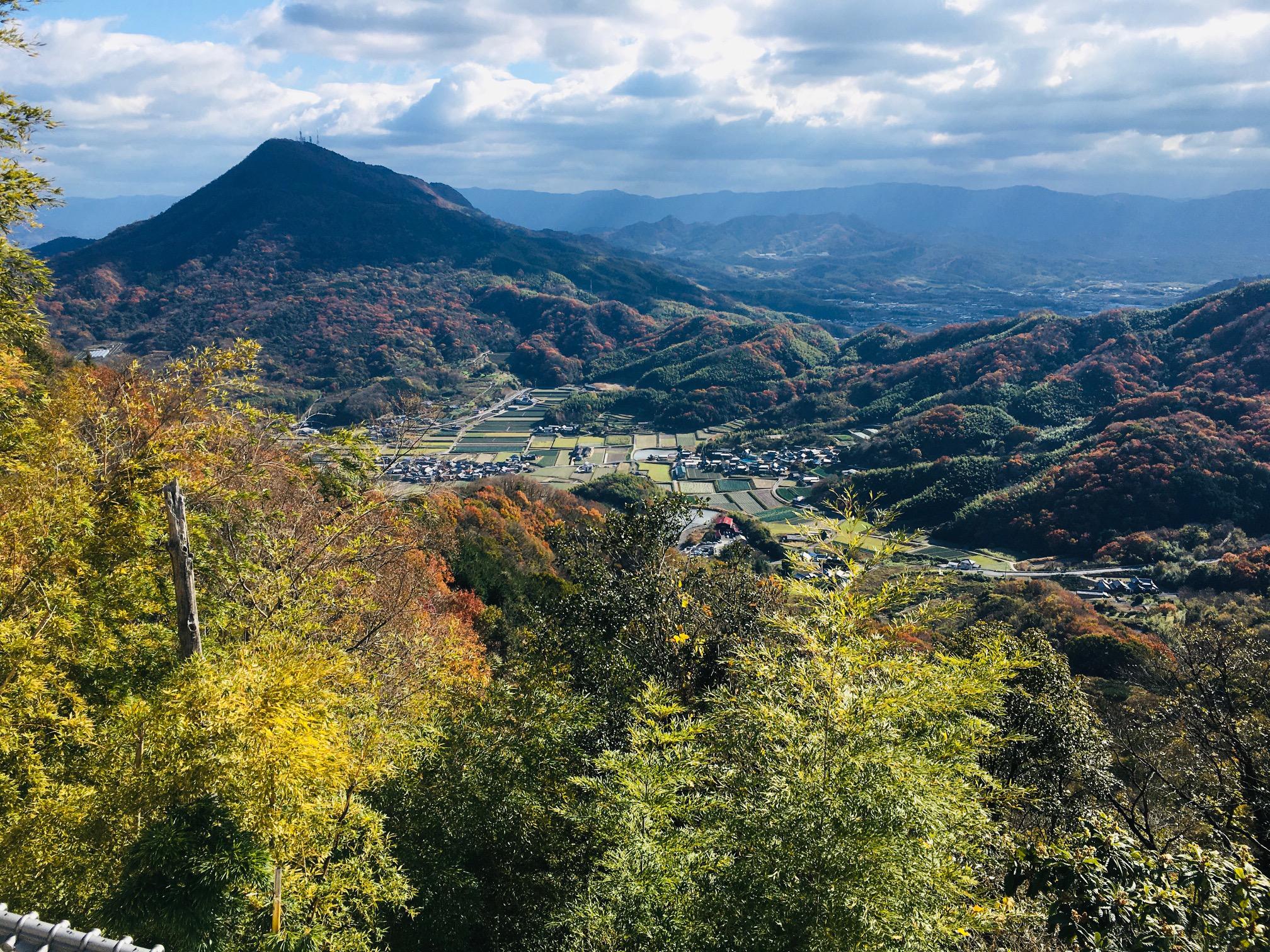 After almost falling down the steep slope back to Shusshakaji, I realized how hungry I was. While it seemed like I cannot find a restaurant for some time, I found an unmanned orange marche instead. I put coins (200 yen) to buy several mandarin oranges. I sat in the near-by hut and enjoyed juicy oranges.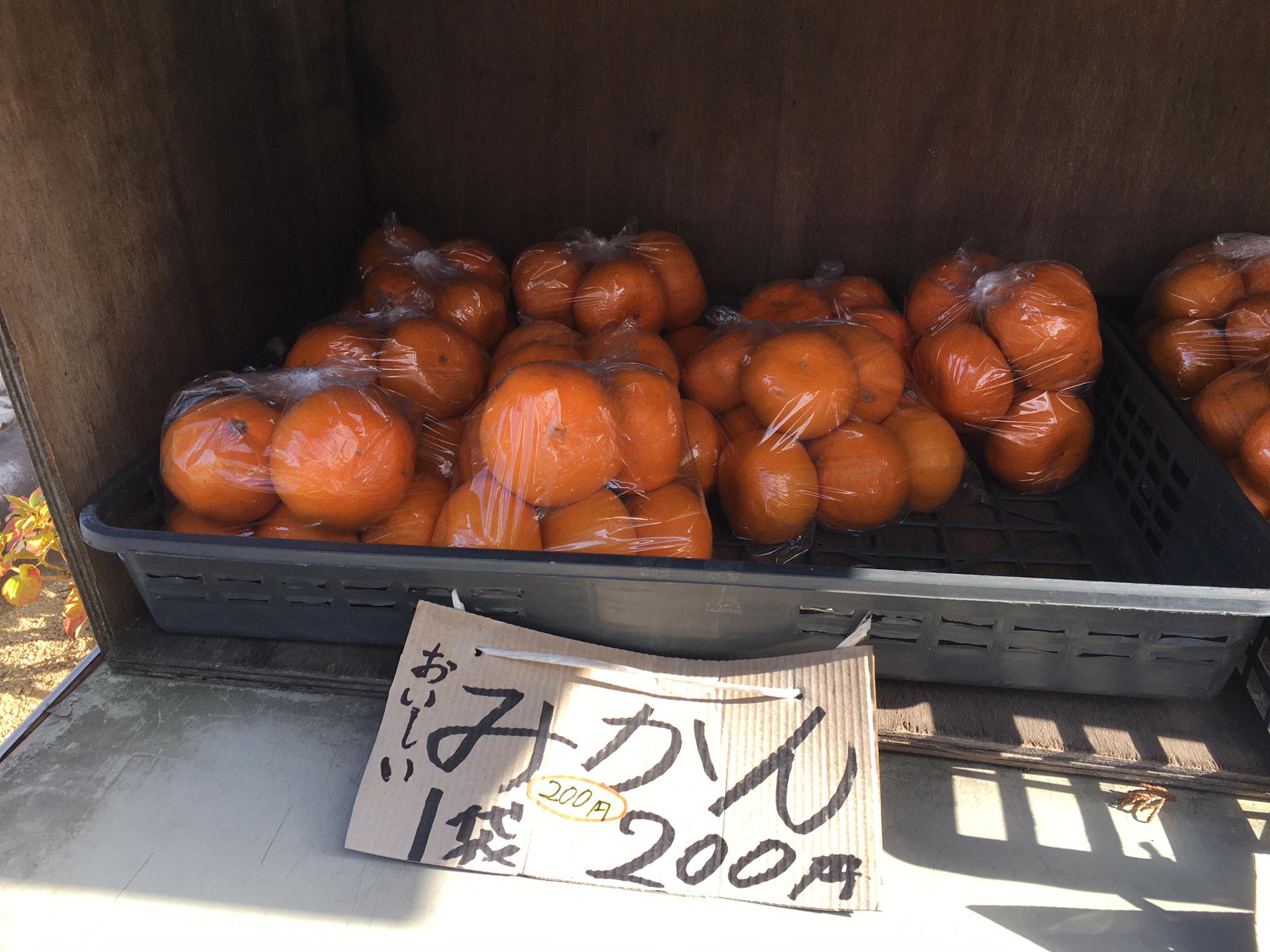 After getting recharged, I headed through mostly flat path surrounded by rice field to #74 Kouyamaji temple, a small but charming temple.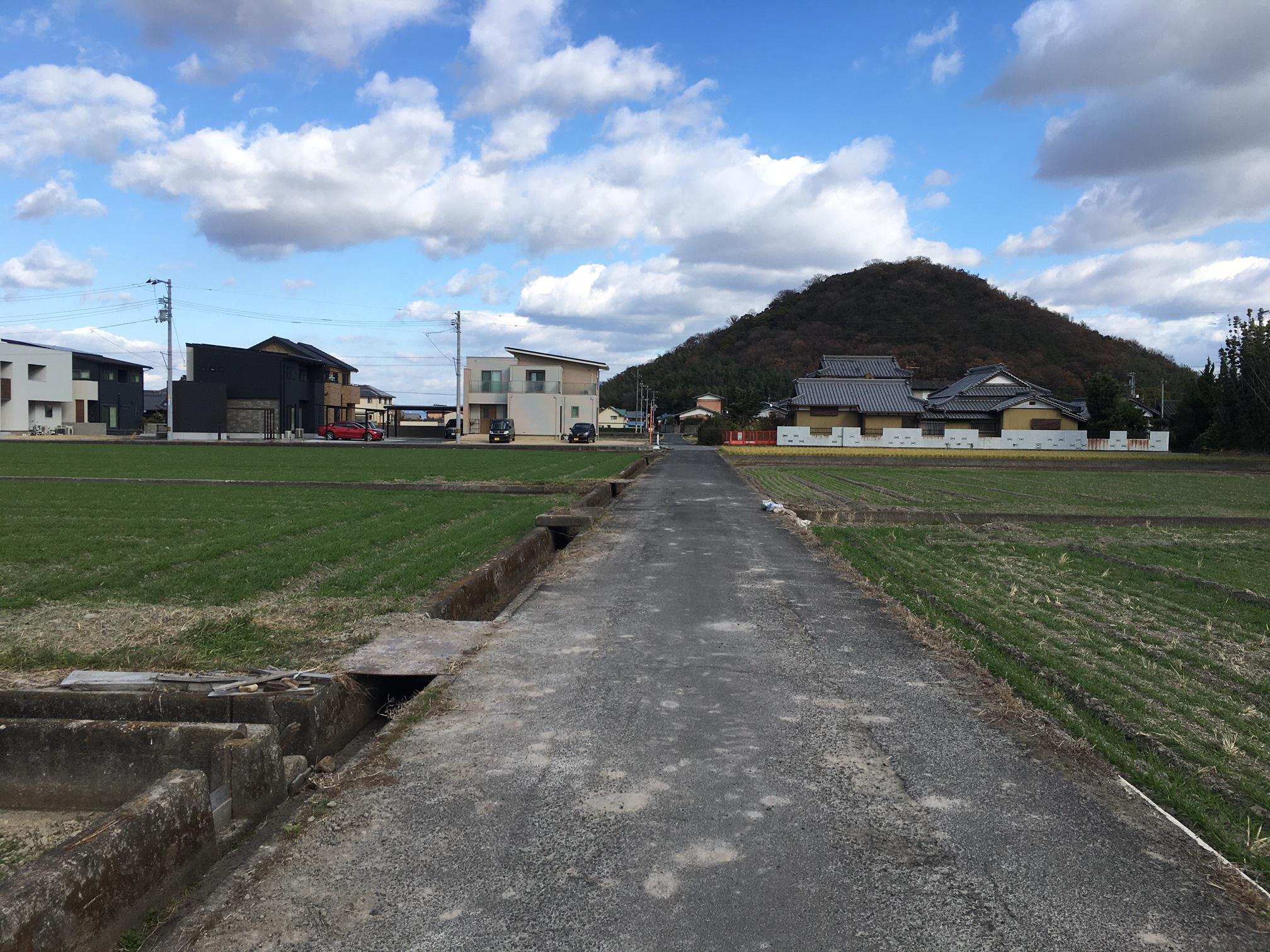 When I completed the religious routine typical for Ohenro at Kouyamaji, it was about 1:30pm and it is a good time for real lunch. The temple staff recommended that I visit Miyagawa Seimenjo, family owned small Udon noodle shop. Miyagawa Seimenjo was a perfect place for Udon fan like me. The self-made style udon stand has been around since 1950's. You request how many udon you want, which I ordered 2. The noodle was thick and tasty. Moreover, a broth known as dashi in Japan made from iriko, dried sardines, and konbu, seaweed looked like gold water which tasted perfect. The staffs were very kind, which is also probably another reason why the udon place has been loved for many years.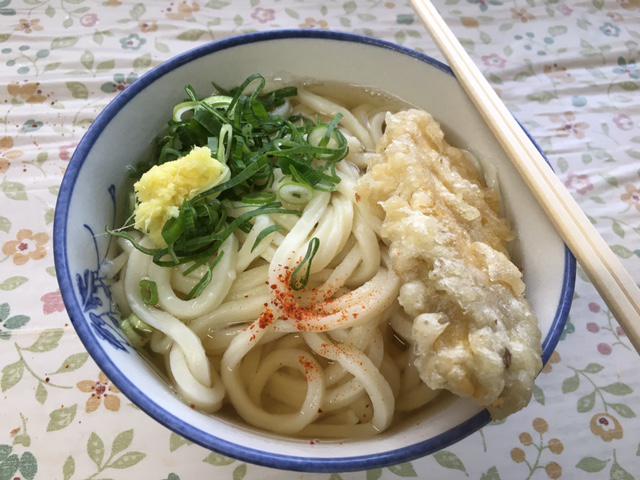 Then, I visited Zentsuji (#75), one of the most famous places among 88th temples. The temple stands in the birthplace of Kukai. As such, together with Kyoto's Toji temple and Wakayama's Koyasan, Zentsuji temple is a central temple of the Shingon sect of Buddhism, which Kukai founded.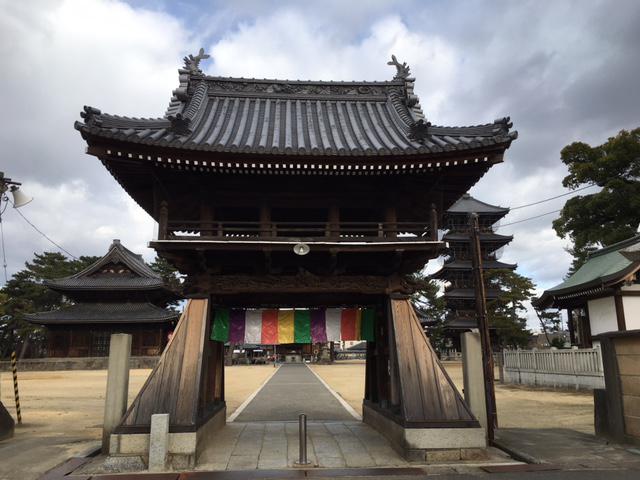 The temple complex is far more extensive than other sites, including 5-story pagoda. I could have continued walking to 76 and more, but it was time for me to return to Takamatsu. It took about an hour from Zentsuji to Takamatsu by JR local trains. It was a short, but very fulfilling Ohenro day trip from Takamatsu.
Please see
here
for more travel information on Shikoku.