At a glance
Located at the Southwest end of Japan archipelago, Kyushu is blessed with warm weather and majestic nature varying from active volcanos, upwelling hot springs, to scenic coastlines. Kyshu also has a history of being influenced by foreign countries such as China, Southeast Asia, and Europe. Traces of exotic old foreign culture can be seen in some of the major cities. For food lovers, a unique culture of local cuisine can be enjoyed in each area of Kyushu.
Highlights
Nagasaki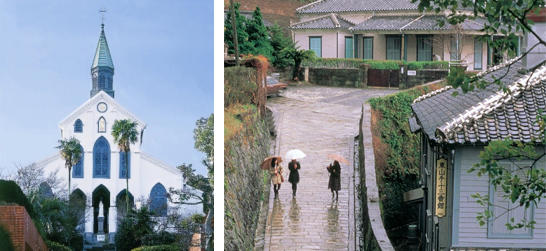 During the 16th century, Nagasaki prospered as a port of trade with Portugal, and also was the first city where Christianity arrived in Japan. At the same time, Chinese ships arrived, and trade with both countries expanded. For many centuries, Nagasaki has played a prominent role as a trade port duing Japan' isoltion period. As a result, Nagasaki became the historical center of economic and cultural exchange, and the exotic ambiance of Nagasaki has been loved by many travelers.
At Glover Garden, historical houses of the Western merchants stand overlooking Nagasaki Harbor. Scottish merchant's house, Nagasaki historical court, dock house where foreign sailors stayed are some of the oldest Western-style wooden houses existing in Japan. The Ooura Cathedral which is called "France temple", is the oldest wooden cathedral in Japan registered as national treasure.
Also in Nagasaki, don't miss the unique gourmet food such as Nagasaki chanpon (noodles with many garnish established by Chinese residents), shippoku cuisine (Chinese-style dishes with Japanese and Portuguese essence), and Turkish rice (pilaf, spaghetti, pork schnitzel, vegetables are served on one plate).
In recent history,the tragedy of the atomic bomb dropped on August 9, 1945, after Hiroshima, should not be forgotten. At Nagasaki Peace Park, see the Peace Statue sculptured by Seibou Kitamura, and visit The Nagasaki National Peace Memorial Hall for Atomic Bomb Victims where photographs of the victims are registered in order to teach the future generaons about this tragedy.
Yufuin & Mt. Aso (Yamanami Highway)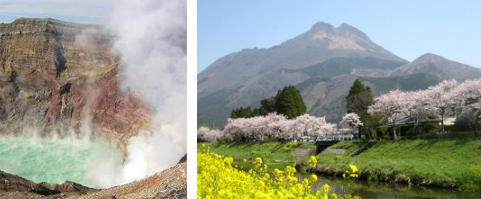 Enjoy driving through Yamanami highway from Yufuin to Mt. Aso, the most picturesque driveway in Kyushu. Yufuin, located in the foot of Mt. Yufu, is considered as the most established hot spring town. Then, enjoy the scenic pastoral views of farms and villages in Kuju highland. Take a ropeway gondola ride to reach the observation point of the crater of Mt. Aso, an active volcano with a diameter of about 25 kilometers. A deserted sight of black lava in the crater as well as Aso mountain range can be seen.
Kagoshima & Ibusuki

Kagoshima, the southernmost prefecture of Kyushu, has produced important historical figures such as Ryoma Sakamoto and Takamori Saigo, who were active in the modernization of Japan during the end of samurai period. Kagoshima is a popular tourist destination with rich nature, mild climate, abundant hot springs, active volcanoes, and nice islands.
A short ferry ride will take you to Sakurajima island, one of the world's greatest active volcanoes at 1117 meters. On the island you will be able to see the ruins of lava flow and shrine gate buried by eruption.
For a day trip from Kagoshima City, Ibusuki is recommended. Experience sunamushi buro (steamed sand bath) which is believed to enhance your blood circulation and smooth your skin. Lie down on the beach and be covered by warm sand which was heated by the underground hot spring.
Also, do not miss local products in Kagoshima, such as shochu (distilled alcoholic beverage) which is made of sweet potatoes, satsuma-age (deep-fried fish cake), and tonkotsu ramen (noodles with pork bone soup).
Yakushima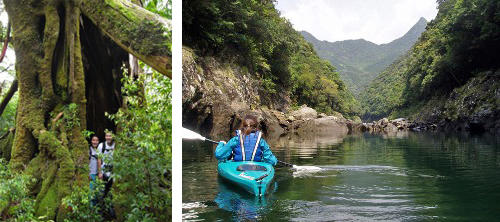 Designated as UNESCO's World Heritage site, Yakushima island is covered by an ancient cedar forest including 7200 year-old Jomonsugis. Called as "Galapagos in the East", 1,300 seed plants grow in this island, includin 40 unique species only found in Yakushima. Enjoy hiking in the pristine woods of huge cedar trees, escorted by a nature guide. You may enounter yakushika deer and yakusaru monkey on the trail. There are varieties of hiking routes suited from beginners to serious trekkers.
Also, visit a beach at night where 2000-3000 turtles come for egg laying during the summer. After a few months, baby turtles going back to the sea can be seen.
Hot Springs in Kyushu

Kyushu is an area famous for its high quality natural hot springs. There are three major hot spring areas, Yufuin, Kurokawa and Beppu. Yufuin is located at the foot of Mt. Yufu, with some luxurious hot spring ryokans. Kurokawa is considered as "the heaven of outdoor hotspring baths" becuase of the number of ryokans with outdoor hot spring baths. Each ryokan has different types of baths such as rock bath, cave bath, garden bath, etc. Beppu boasts the largest quantity of hot spring water in Japan, and the hot spring resort consists of 8 hot springs, each with different quality of water.
Access
There are a variety of approaches to this area. Typical routes are as follows:
From Tokyo
Tokyo - [1 hr. 30 min. by flight] - Fukuoka, Oita, Kumamoto, Nagasaki, Kagoshima
Tokyo - [1 hr. 30 min. by flight] - Kagoshima - [30 min. by flight] - Yakushima
From Osaka
Osaka - [1 hr. by flight] - Fukuoka, Oita, Kumamoto, Nagasaki, Kagoshima
Osaka - [1 hr. by flight] - Kagoshima - [30 min. by flight] - Yakushima
Recommended Accomodation in Kyushu
Custom travel in Kyushu and Kyushu Private Tour
If you would like a customized trip in Japan, please contact us by email
(commentsmtj@michitravel.com) or click the button below and fill in the request form.
If you would like a customized tour in Kyushu, please take a look at our sample itinerary in Kyushu.
We will design your own tour of Kyushu guided by an English-speaking licensed private tour guide.
Picture on this page: Volcano picture in Yamanami Highway, provided by Mt. Aso Ropeway